Right Behind Her by Melinda Leigh is the fourth book in her Bree Taggert series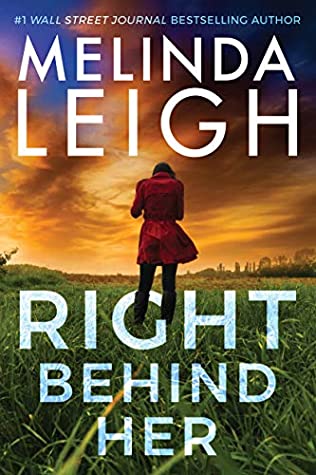 Bree Taggert leaves her job as a homicide detective in Philadelphia and moves back home to Grey's Hollow, New York and is now the sheriff there. Bree survived a terrible tragedy in her childhood. Her brutal, abusive and often drunk father shot and killed her mother and then shot himself all while Bree had grabbed her baby brother Adam and younger sister Erin and hid under the porch.
Now Bree's brother Adam is a well-known artist and talks Bree into visiting their old family home which Adam wants to renovate. Unfortunately as they walk the property they find two bodies deceased around the time of Bree's father's murder-suicide case and her father is suspected in this case as well. But is he the killer?
Matt Flynn in a former sheriff department investigator and K-9 handler. He was injured in a friendly fire incident while on duty and his hand was damaged so much he can't pass the firing test. Now he assists Bree and really cares about her.
Sheriff Bree Taggert finds out that cold cases can be very dangerous. The bones of what turns out to be two bodies are found on the grounds of Bree's childhood home. Discovering what happened and who murdered them had Bree and her boyfriend Matt Flynn hustling to solve the case. I really enjoyed all the action and suspense in this story. Bree and Matt are a great couple and I was happy to see the progress in their relationship. I am looking forward to the next book in the series.
Book Info:

Publication: September 14th 2021 | Montlake | Bree Taggert #4
The discovery of human remains unearths another nightmare from Sheriff Bree Taggert's past in a bone-chilling thriller by #1 Amazon Charts and Wall Street Journal bestselling author Melinda Leigh.
Twenty-seven years ago, Sheriff Bree Taggert's father killed her mother, then himself. Now Bree and her younger brother, Adam, find human bones on the grounds of their abandoned family farm. The remains are those of a man and a woman, both murdered in the same horrible way.
When the investigation determines the murders occurred thirty years ago, Bree's dead father becomes a suspect, forcing Bree to revisit the brutal night she's spent most of her life trying to forget. The only other suspect is an unlikely squatter on the Taggert farm who claims to know secrets about Bree's past. When he mysteriously disappears and Bree's niece is kidnapped, the cold case heats up.
Bree has stoked the rage of a murderer who'll do anything to keep his identity—and motives—a secret. To protect everyone she loves, Bree must confront a killer.