The Duke Who Loved Me by Jane Ashford is the first book in The Duke's Estates series. I loved the cover of the book and was so excited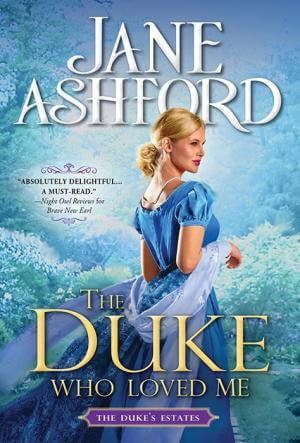 to see the new series, which seems to be based on gentlemen who have inherited titles and do not want them or who don't know how to manage the estates. Therefore, needing the help of the heroine which I always enjoy more rather than the traditional male saving the female storyline.
Even as a child Cecelia Vainsmede was a force to be reckoned with. Her father was distracted by all his books and would not be bothered with estate matters. So by the age of nine, she had taken over the management of her father's home and James's guardianship. She has loved James for years, but he only sees her as practical and convenient. Now that he has inherited a dukedom that is in disarray, he only sees her for her usefulness and organizational skills.
James Cantrell, the new Duke of Tereford inherited the dukedom from his eccentric great-uncle. Seeing the Tereford House in London for the first time, James was shocked by the condition of the house. He liked things well-organized but hated to put effort into anything. He concluded marrying Cecelia would be perfect as she was extremely competent. She could take charge of all the chaos, and they had worked well together in the past. James was shocked when she turned him down, but he quickly regrouped and thought to win her over. He never counted on having to compete with a prince.
James' character was hard to like in the beginning. He was self-centered, lackadaisical, and only thought of how Cecelia could help him. He slowly came to see himself as the vain person he was and started to take up his responsibilities. Also, he realizes his feelings for Cecelia and how much he needs her in his life. Cecelia saw the changes in James, but she still took control of everything which left James feeling left out. James wanted to help with decisions but only certain ones which he could not even identify. A lot of their issues could have been worked out if they would have talked to each other without each one trying to always "win."
The book started out great and I was really enjoying it until I reached the end, it was very disappointing. It was very abrupt, and the two main characters never resolved their differences. They admitted they married each other for love but the problems they had were never discussed. The book just stopped! The second book was built up in the story leading us into it so hopefully, it will not be as disappointing. Unfortunately, the ending of this book ruined it for me.
Book Info:

Publication: August 24, 2021 | Sourcebooks Casablanca | The Duke's Estates #1
The Duke of Tereford is accustomed to getting his own way, but she's going to teach him a thing or two about love…
James Cantrell, the new Duke of Tereford, has inherited a dukedom in disarray and is overwhelmed by his unaccustomed responsibilities. Then he gets an idea. Cecelia Vainsmede served as liaison between James and her father, and she knows a great deal about business matters, his own in particular. She's also quite pretty. Ever the pragmatist, he suggests a marriage of convenience.
Cecelia has always been good at working with James, but she doesn't understand how he can be so obtuse. He clearly doesn't realize that he's the duke she's always wished for, or that his offer is an insult. But when a German prince arrives in London and immediately sets out to woo Cecelia, James will have to come to terms with what he really feels for her. Is running away worth the cost of losing her, or will the duke dare to win her once and for all?