Fool Me Twice by Meredith Duran:  Olivia Holladay is a woman on a quest. Pursued by a killer, she is seeking the means to both win her freedom and to create a home of her own. To do this, she has stolen papers from her last employer and is now seeking more incriminating papers in the home of the mad Duke of Marwick, who has an enemy in common with her. Although a secretary by training, she does this by looking to be employed by his household as a maid, but inadvertently gets hired on as housekeeper when she applies at the house, since the last housekeeper had recently fled from the evidently mad duke.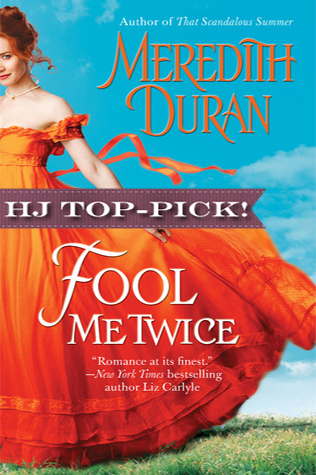 Alastair de Grey, fifth Duke of Marwick, was at one time a shining star of politics, on his way to being Prime Minister of England. He believed his life perfect, and his wife the perfect duke's and politician's wife. However, when his wife suddenly died of an opium overdose, Marwick discovered that she had betrayed him at every level, both politically and personally, with his political enemies. Since her death he developed a form of agoraphobia; he is afraid to leave his bedroom as he knows that this will lead to killing the men his wife had betrayed him to.
"…it would be no injustice if her lovers died. No mystery, either. It would be murder. It would be murder if Alastair left this house. So he does not leave this house. He does not even leave this room."
When Olivia first encounters Marwick, he throws an empty bottle at her. The second time she meets him, she is introduced to him by the butler, objects to being called "girl," and then is promptly sacked, which is ignored. She is quite sure he is mad, and is afraid of him, but not intimated by him. She is having problems with the staff; they don't respect her because she is too young for a housekeeper, and they have become slovenly with the madness of the duke. The next time she approaches Marwick, she is both struck by his good looks, shocked by how dirty his room is, and offended that priceless books are strewn about his room. At this point, she becomes determined that she should get him out of his room. So it starts. Olivia sends up footmen with bookshelves, maids with cleaning supplies, and bullies him into his sitting room. At this point, she takes over his correspondence, and Marwick begins to notice that not only is his new housekeeper young and intelligent, but that she was also pretty. Eventually, he is even goaded downstairs to the study, where he finds her working on his correspondence, and where they share a kiss. Olivia first thinks the kiss is to scare her off, but:
"If he wasn't trying to run her off, then … He was kissing her simply because he wanted to."
Olivia and Alastair have fantastic chemistry. Whenever they chance to be together, sparks are in the air; first they spark against each other, and then they spark with each other, and it's very magical. They have a nice long courtship, which gradually goes from dislike and distrust to love and passion, and it's really quite some time before they are intimate with each other. The character growth is also very appealing; Alastair is the classic "damaged hero" archetype, and he goes from being fearful of leaving his room to removing Olivia from Newgate Prison. Olivia, of course, has influence over Alastair, forcing him using word to and deed to come out of his room and back to the world. They rescue each other, and that changes everything:
"There is a Chinese proverb," he said at length. "Save a man's life,and you are responsible for him."
"So you feel responsible."
He turned his kneading knuckles into her shoulders. "No more than you do for me."
I strongly recommend this book! The flaws are small; a disappeared plot point about a maid and her beau, an unexpected choice of true villain. Olivia can be pushy and Alastair feels much too sorry for himself. On the other hand, there is so much to love in this book, from the strong-minded and feisty heroine, to the handsome and troubled hero, to the deep dark secret, all leading to the ever-so-satisfying ending. Read this book.
Since I didn't know about Meredith Duran I wasn't aware that this is the second book of a series. Fool Me Twice definitely stands alone, although I am sure that reading the other books would enhance it. That Scandalous Summer is the story of Michael de Grey, Alastair's brother and Elizabeth, Olivia's former employer, and there is also Your Wicked Heart, a novella, the story of Lady Ripton, Olivia's friend.
I cannot believe that I have not read anything by Meredith Duran before! Fool Me Twice is a great book, full of fascinating characters, secrets, love and adventure. Colour me impressed! This is the best historical romance I have read so far this year.
Book Info:

Publication: March 25th 2014 by Pocket Books
Sensible and lonely, Olivia Mather survives by her wits—and her strict policy of avoiding trouble. But when she realizes that the Duke of Marwick might hold the secrets of her family's past, she does the unthinkable, infiltrating his household as a maid. She'll clean his study and rifle through his papers looking for information.
Alastair de Grey has a single reason to live: vengeance. More beautiful than Lucifer, twice as feared, and thrice as cunning, he'll use any weapon to punish those who fooled and betrayed him—even an impertinent maid who doesn't know her place. But the more fascinated he becomes with the uppity redhead, the more dangerous his carefully designed plot becomes. For the one contingency he forgot to plan for was falling in love…and he cannot survive being fooled again.