In Ritual (Palm South University #5) by Kandi Steiner, Florida's Palm South University has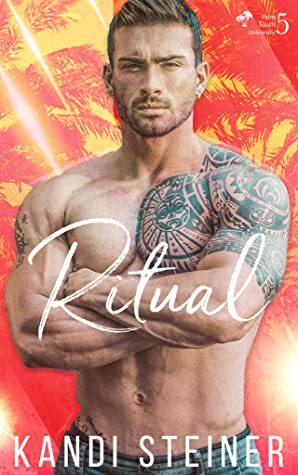 admittedly had its fair share of controversy and unforeseen dilemmas over the years. But the current students are pushing things to the limits. Now that the school year is underway again, the drama builds as friendships are tested, old resentments resurface, and new romance is in full, sexy bloom.
"I'm not mad," he says, his voice soft, resigned. "I'm tired."
"Of what?" I ask, throwing my hands out, exasperated.
"Of choosing you when you refuse to choose me back."
The fraternities and sororities on Greek row are complete and utter chaos on a good day. But given the amount of bad blood between some of the members as well as the normal rivalries? It's keeping everyone on their toes this semester. So when a circle of friends and frenemies attempt to make amends and put their best foot forward, you would think they'd have a handle on it, right? Not so much, thanks to the attitudes, egos, and tangled history between them all.
'This kid was just supposed to be a distraction, a free ride, a little fun in my last semester.
And then the asshole went and stole my heart.'
Ritual was a New Adult serial-type story that was a big old angsty dramafest with scintillating romance and over-the-top theatrics. And I have to admit, it was rather addictive.
'While the weather might be cooling down a smidge, it's apparent to me that the drama in our lives never will.
This crew couldn't escape trouble even if we tried.'
Trigger warning: View Spoiler »Abortion, teenage pregnancy, and rape were mentioned but not in full detail; alcoholism and drug use; kink. « Hide Spoiler
I had no idea what a roller coaster ride I was in for when I jumped into the Palm South University series with book number five. Each installment basically is one "season" at the university and follows mainly two groups of students: one of the fraternities and one of the sororities. The book is then broken down into "episodes" (chapters) which typically was a particular month or set a couple of months later and was then told from multiple POVs. There was a fairly large cast involved. And it very much read like a teenage drama TV series and an MTV quasi-reality show smashed together, which I'm not usually a fan of to be honest. But there was something about the cast of characters and the multitude of issues Steiner put them through that made this a page-turner.
I'm probably on the far end of the spectrum as far as age goes to be reading this series (lol) but I found that the issues the students–and their friends and family–were dealing with were real world problems that seemed pretty universal. Yes, there were a lot of romance woes, some bed-hopping, and catty fighting between characters. But there were plenty of taboo, serious subjects touched upon as well. (Which I won't mention aside from the above trigger warning, if you choose to read it) And that made what Cassie, Adam, Grayson, Jess, Kade, Skyler, Bear, Becca, Erin and Ashlei endured seem more plausible and gave their journeys depth that I don't always find in the TV versions of this type of story. So kudos to Steiner on that.
The type of modern story that will shock you, take your breath away with the confessions of love, and that will have you overheated from the steamy explicit love scenes, Ritual was college drama done right.
Book Info:

Publication: Published July 30th 2020 | Kandi Steiner | Palm South University #5
Written like your favorite drama television show, the Palm South University series has been called "a mix of Greek meets Gossip Girl with a dash of Friends." Follow seven college students as they maneuver unrequited love, teacher/student romance, the tangles of "no strings" relationships, love triangles and more. Each "season" has six "episodes," and just like when your favorite show hits Netflix, you can read just one episode at a time or binge the entire thing. With the perfect mix of angst, emotional romance, and romantic comedy, the Palm South University series is your next guilty addiction.
Drama. Lies. Sex.
Welcome to Palm South University.
The weather isn't the only thing heating up in South Florida. At a school where fraternities and sororities don't exactly play by the rules, relationships are bound to be tested. Parties and sex are definitely key ingredients in the Palm South recipe, but what happens when family issues, secret lives, and unrequited love get tossed in the mix?
Follow Cassie, Bear, Jess, Skyler, Erin, Ashlei, and Adam as they tackle college at a small, private beach town university. Written in television drama form, each episode of this serial will pull you deeper and deeper into the world of PSU.
Where the sun is hot and the clothes are scarce, anything can happen.