In Sorry Not Sorry by Sophie Ranald, After helping her now former flatmates, engaged couple Maddy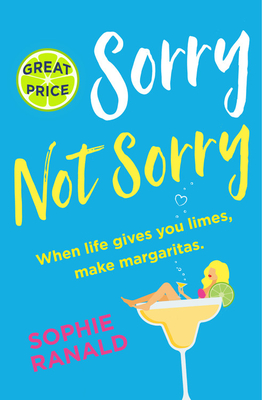 and Henry, move into their new home, Charlotte is beginning to realize that her life is rather dull. Not having her childhood best friend Maddy around to have a drink or talk out their problems is part of it. But the fact that Charlotte's life consists of working and sleeping, with little to no social life in between? That's just sad. With two new roommates moving in shortly, she can only hope that they will be like-minded and looking to have a bit of fun, perhaps to go traipsing out on the weekends to have some laughs.
'My life, I reflected as I ate my solitary supper, was narrowing down to a pinprick. I went to work, I came home, I slept.'
Charlotte's time-consuming and stressful job as an admin at a hedge fund company in Mayfair begins to get more interesting with the addition of a handsome man. Well, two handsome men, to be honest. One is a client, the other is a new hire. Not that Charlotte would ever think of asking one of them out. Or maybe she could… With the help of a new podcast she's found–Sorry Not Sorry–that follows an American woman on a quest to break out of the rut her dating life has become, Charlotte takes her advice to heart. But will it ultimately lead to heartbreak when things prove complicated? Or will she end up exactly where she was supposed to be all along?
'I hadn't even realized I'd fancied him. But I did. I fancied the arse off him. And there was only one way to find out whether he felt the same.
Make the first move.'
Sorry Not Sorry was a rollicking good time with a quirky cast I fell helplessly in love with in no time flat. With its fun rom-com-meets-chick-lit vibe, what a lovely way this was to be introduced to Sophie Ranald's work!
'Life had given me lemons, and even if they'd been limes it wouldn't have helped, because I'd run out of tequila.'
There was a whole lot to enjoy about Sorry Not Sorry. Being set in and around London was the first big selling point for me as I love stories from across the pond. And Charlotte–as well as her friends–embodied that London lifestyle with their dry, witty sense of humor, the frenetic pace they seemed to live with day after day, and the social scene they flirted with. I was also pretty wowed by our main character herself. Charlotte was a take charge, empowered kind of woman who used her keen mind in all aspects of her life. Well, except maybe her love life. In that area she had fallen into a major rut. It was the Sorry Not Sorry podcasts that helped bring her around to push her limits personally for a change–with, ahem, varying results.
Aside from Charlotte's loyalty to her (sometimes undeserving) friends, the thing I liked most about her was that she didn't make excuses for herself. If she made a mistake, she owned up to it and tried to use it as a lesson of what not to do in the future. And Charlotte did make some blunders. Some funny ones, actually, as you might expect. One such mistake might end up in a grey area for some readers, or it might be off-putting for some, but I think Charlotte did the best with what information she was given–in pretty much every situation, actually–and did things with the best of intentions. I have to give her kudos for that.
What I wasn't really expecting was how much I would like her new roommate Tansy and kind of cheer her on to sort out her life at the same time as rooting for Charlotte. And I haven't read it yet, but Tansy did get her own story in It's Not You It's Him–it sounds fabulous! There are a whole host of other secondary characters in Sorry Not Sorry who have their own books from what I've seen of Ranald's backlog of work, but it appears each story can be read as a standalone.
It never gets old reading a new-to-me author, and I must say that Sophie Ranald's writing voice and storytelling charmed me off my feet. Sorry Not Sorry will surely resonate with any woman who has found herself lost after life's plot twists knock her sideways. At least with Charlotte's story, there's a guaranteed HEA to make you smile.
Book Info:

Publication: July 28th 2020 (first published February 13th 2019) |  Forever |
Charlotte has always been a good girl. But after discovering a motivating podcast she suddenly feels restless and sees that being good is getting boring . . .
She's not just stuck in a rut — she's buried in it up to her chin. The only company she has in bed is the back catalog of Netflix, and falling in love feels like the stuff of fairy tales. So when she stumbles across the popular podcast Sorry Not Sorry, which challenges women to embrace their inner bad girl, she jumps at the chance to shake things up.
Old Charlotte would never ask for a stranger's number, go on a blind date or buy lacy lingerie . . . but New Charlotte is waving goodbye to her comfort zone (with a side order of margaritas). And it turns out that good things do happen to bad girls . . .
If you're a fan of romantic comedies by Sophie Kinsella, Helena Hunting, or Christina Lauren, and love TV shows like Girls, Crazy Ex-Girlfriend, and Jane the Virgin, you won't be able to put down this hilarious read.