In Rock Her by Rachel Cross, Kate Gibson's life has been all about her family, taking care of her dying mother and then after her death when Kate was 18, she had to continue raising her 11 year-old sister. For that reason she has lived a sheltered life, thankfully since she is a nurse she is not too naïve, but enough that she is still a virgin.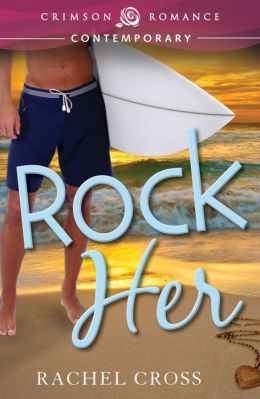 Alec Sawyer is a former rock star and now a recovering addict. He lives a constant struggle to keep his life in balance so he doesn't fall into the old pitfalls again. He lives with insecurities and fears now something that continually pops up and he needs to work on.
One day when Kate is out jogging she sees a surfer drowning and runs to the rescue, but she is not he only one, for Alec was nearby and has gone to help her. Unfortunately because of Alec's semi celebrity status, when the media get s a wind of it they make a huge deal of it.
The attraction between Kate and Alec in instantaneous, which naturally scares Kate but somehow she feels alive for the first time in years. But chemistry cannot be denied for too long, and the chemistry between Alec and Kate is so strong that it will lead to the natural conclusion, one that will bring some sweet, hot and steamy scenes.
But in order for Alec and Kate to get their HEA they have some challenges to face. Alec with his fears and past addiction, while Kate some financial issues she needs to address with her sister ASAP and a possible stalker that may put her in danger.
For a fun, entertaining and sweet read that will keep you turning the pages, don't miss Rock Her by Rachel Cross.
Book Info
Publisher: Crimson Romance (June 17, 2013)
She's a small town nurse who had to grow up fast. He's rock music's most infamous guitarist. When a day at the beach turns life or death, their worlds collide, and no one will ever be the same.
Kate Gibson's life has been all about family. She spent her high school years taking care of her dying mother, and her college years raising her younger sister.
Alec Sawyer's past was an excess of everything: drugs, parties, rock, sex, and money. His downfall had been long, spectacular, and public.
Thrown together by fate and the media, Kate and Alec find themselves falling in love. But dating in the spotlight has its downside, and some secrets are better left in the dark.
Sensuality Level: Sensual