The Chocolate Touch by Laura Florand is a wonderful story of love, seeing in someone else what you think in lacking in yourself, and coming to terms with your past. Let me tell you a little about this amazing story.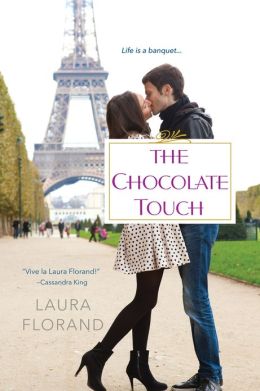 Dominique Richard is a Chocolaterie in Paris and his chocolate creations are among the best. Growing up in a broken home where his father abused both his mother and himself, forced to work in a slaughterhouse at the age of 12, Dominique has climbed his way out of that life and created a new one for himself. Although he keeps people at a distance and never gets involved in relationships, afraid that he will end up like his father, an abusive, mean, hurtful man, there is something about the beautiful young woman sitting in his salon, absorbing his chocolates that makes him want to hold her and keep her forever.
Jamie Corey, heir to the Corey Chocolate fortune, can not get enough of Dominique and his wonderful chocolates. In Paris after an accident that has left her unsure of her future, Jamie wants nothing more than to be with Dominique, but what does a plain, simple unexciting woman like her have to offer someone like Dominique?
I just fell in love with this couple. They had such inner strength. Each saw in the other the things that they found lacking in themselves, yet those qualities were there all along. Dominique, trying to be gentle and kind for Jamie, not understanding that this was his nature and that he had always protected and sheltered those around him. Jamie, thinking that she had nothing to offer Dominique, telling him that he is the sun to her, bright, warm, security, all of the things that Dominique longed to hear all of his life. They both had secrets that they kept from each other, about their past, about who they really are, but the way that these secrets were reveled and how they the characters handled them, only made me love them more.
I will definitely read the other books in this series and would recommend this book to anyone looking for a truly wonderful love story.
Book Info
Publisher: Kensington (July 30, 2013)
La Vie en Chocolat
Dominique Richard's reputation says it all—wild past, wilder flavors, black leather and smoldering heat. Jaime Corey is hardly the first woman to be drawn to all that dark, delicious danger. Sitting in Dom's opulent chocolaterie in Paris day after day, she lets his decadent creations restore her weary body and spirit, understanding that the man himself is entirely beyond her grasp.
Until he touches her. . .
Chocolate, Dominique understands—from the biting tang of lime-caramel to the most complex infusions of jasmine, lemon-thyme, and cayenne. But this shy, freckled American who sits alone in his salon, quietly sampling his exquisite confections as if she can't get enough of them—enough of him—is something else. She has secrets too, he can tell. Of course if she really knew him, she would run.
Yet once you have spotted your heart's true craving, simply looking is no longer enough. . .