Rock Rebel by Tara Leigh :Verity is finally ready to take control of her life and stage a much-needed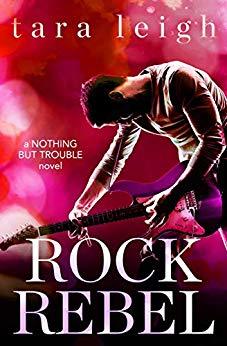 comeback. After learning many lessons the hard way, she's ready to do things right and go after what she truly wants. Verity is actually really talented and has an amazing voice, except she's burned quite a few bridges in the industry and there are a number of people she refuses to work with anymore after being taken advantage of.
Dax is an incredibly gifted musician. He was classically trained and can pick up any instrument with no training. He stumbled upon rock and hasn't ever looked back. He's found a family in his band and manager and it's enough for him despite an uneasy relationship with his parents and siblings. He's sexy, laid back, and a talented songwriter.
Dax has been content not to get involved with anyone and he draws the line at dating anyone in the music industry, but he's immediately drawn to Verity. She's a feisty redhead and an intriguing contradiction. He definitely wants to get to know her, but she's off-limits for a number of reasons. Verity has also sworn off men and relationships, but she's intrigued by the visceral connection she has to Dax.
"I don't have to do this. If you don't want me here, I'm gone. No hard feelings."
Verity stared at me for a beat, then at all the people assembled in the other room watching us. "Who am I to turn down Dax Hughes?" Tugging her hand free, she resumed her place in front of the mic. "Ready when you are, rock star."
Verity has a lot of baggage and she's in a near-constant battle to shove her past firmly back into a locked closet. Dax could be both good and bad for her since he seems to be a truly good guy when he's not blowing hot and cold, but they also share a manager. Verity is strong and determined and she challenges Dax. Dax provides her safe harbor and a lack of judgment.
"I was wrong."
Again I was surprised by what had come from Dax's mouth. "A man who can admit when he's wrong. I'm impressed."
He gave a wry smile, sadness swirling inside his eyes. "I've made plenty of mistakes. Might as well own up to 'em."
Rock Rebel is entertaining, sexy, and heartwarming yet devastatingly heart wrenching. Tara Leigh seamlessly draws you into this world and provides real, complicated characters who are like a family. Ms. Leigh provided great characters, banter, conflict, drama, surprises, and plenty of heat. Fans of Kristen Callihan, Kylie Scott, and Erika Kelly will love Rock Rebel.
Book Info:

Publication: Published December 11th 2018 | Forever Yours | Nothing But Trouble #3
He's a rock star with a secret; she's a pop princess with a painful past, can their forbidden romance survive, or will their lies destroy them both?
I've earned my bad reputation.
A few years ago, I was New York City's hottest classical music prodigy. But I wanted something else, something more. So I chased my real dream, and now… I'm rock royalty. Dax Hughes, lead guitarist of Nothing but Trouble. But to my family and former Juilliard classmates, I'm an outcast. A misfit. A rebel.
They're not entirely wrong. I don't give a damn what other people think, and I'm all for breaking the rules… except when it comes to our new opening act, Verity Moore.
Rock gods don't tour with pop princesses.
It's not personal. Actually, under that fallen diva reputation, Verity's incredibly talented. And her fiery redheaded personality is… intriguing. But I'm convinced the skeletons in Verity's closet are as scandalous as my own, and when we're not sparring, she has a way of drawing out all those secrets I'm determined to keep hidden.
Yeah. Verity Moore is definitely off-limits . . .
But since when do I give a damn about the rules?