In Alejandro's Sexy Secret (Hot Latin Docs #2) by Amy Ruttan , after meeting in Vegas five years ago, Kiri Bhardwaj and Alejandro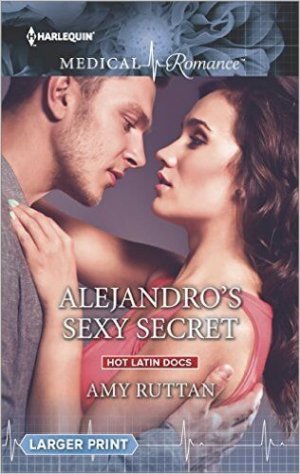 Valentino never thought they'd see each other again. However, now Alejandro discovers that Kiri is his new boss; a woman under pressure from the hospital board of directors. Forced to make tough decisions puts Alejandro and Kiri at odds, but when a situation arises to do with an abandoned baby, they find themselves working closely together. Yet, Kiri is hiding a secret, and unless she can find a way to tell Alejandro, there may be no hope for a second chance?
"Dr. Valentino, you can't take responsibility for that infant."
"I have to," Alejandro said. "He doesn't stand a chance if he's shipped off to another hospital. Especially not county."
"You know that I don't want to do that either, but the board—"
Alejandro held up his hand. "You don't have to explain board politics to me. I'm very familiar with that. Snyder was just here."
"Oh great," she said sadly, then she looked concerned. "I told him I'd handle it."
"Your job is safe, I'm sure. It's me he doesn't like and he never has. Probably because I don't kiss his ass," he snapped.
What a wonderfully poignant tale Ms. Ruttan has penned in this second book of the Hot Latin Docs series, which encompasses the second chance romance trope and two fantastic characters that left me wanting more. The prologue sets the fast-pace of this story and I enjoyed how it left me wondering what would happen between these two on their journey to happy ever after. Would Kiri and Alejandro be able to overcome their fears to achieve a second chance? Would the hero and heroine find a way to work together without being at odds all the time? Would Kiri tell anyone how she met Alejandro? Would Kiri finally reveal her secret?
As for the dialogue, it was a perfect blend of emotional, intense and playful. The emotional and intense dialogue was due to the main characters back stories and the medical situations that arise to make these two work closely together. Yet, there were also some light-hearted moments that had me smiling and cheering for this couple to achieve their happy ever after, because they both have had enough heartbreaking moments in their pasts that they deserve happiness.
Both the main characters had me hooked, and I loved every moment they were together whether it was in the hospital or when Alejandro was determined to help Kiri feel welcome in the new city she's just moved to. The heroine is hard-working, smart and I liked how willing she was to help Alejandro, even though it wasn't in her best interests to do so, if she wanted to keep her job. She's also strong and brave in being able to keep on going, even though memories of the past are re-surfacing being around the hero.
"I'm looking forward to this. I promise you'll have fun, Kiri."
"Promises, promises. I'll hold you to that, you know. I'd better have fun." She was teasing.
"I guarantee you'll have a good time."
"You guarantee it?"
And before he could stop himself he took her hand and kissed her knuckles, before whispering, "Absolutely."
While Alejandro, he's been through a lot with his life. Things that have happened in his past have made him into the great surgeon he is. He's determined to save lives in honor of his parents and what his dad did for him. Except his father's death and what he received due to his own situation when his parents were killed make him wary of happy ever after. How can he allow someone to love him when there's a chance something might happen to him? He's also kind and caring for what he does for his patients. Both admirable traits when trying to deal with what the board of directors wants to do to the hospital.
Overall, Ms. Ruttan has penned an astonishing read that I intend to read again and again because Kiri, Alejandro and his brothers are characters I thoroughly enjoyed, most especially when the brothers tease each other. The romance was on the sweet side in closed bedroom scenes, but this couple's amazing chemistry hooked me from start to finish. The way this story ended left me shocked because of what happened to Alejandro, yet the epilogue wrapped this story up nicely because of this couple's miracle. I would highly recommend Alejandro's Sexy Secret by Amy Ruttan, especially if you enjoy the second chance romance trope.
Book Info:

Publication: December 20th, 2016 | Harlequin Medical | Hot Latin Docs #2
What happens in Vegas stays in Vegas…
If only that were true! Surgeon Kiri Bhardwaj never expected to see sexy exotic dancer Alejandro Valentino again after their fantasy life-changing night together. But now they're face-to-face, and he's a specialist in her pediatric department!
Working with Kiri proves to Alejandro that they haven't finished what they started all those years ago. But to claim what he's lost he'll have to lay his heart on the line and prove to Kiri their chemistry is for keeps!