Rookie K9 Unit Christmas: Surviving Christmas and Holiday High Alert: What a fun, suspenseful combination of stories! Both set in the K9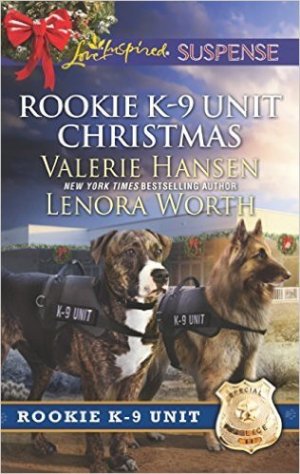 series, and both showing the special love and support between dogs and their human family members. While not a dog owner myself (due to allergies), I know there is a very special bond between humans and canines, and this is especially true for K9 handlers and the dogs that serve them.
In "Surviving Christmas" by Valerie Hansen, readers meet Sean, who is recovering from PTSD after being stationed in Afghanistan. He is also now the single widowed father of his young son Patrick, who is recovering from a drowning induced brain injury. Sean and Patrick have come to Desert Valley, Arizona so Sean can be matched with and trained to have a comfort dog that will aid his recovery. The bond that gradually grows between him and his dog is beautiful, especially as she becomes quick to protect Sean and Patrick from numerous attempts to kidnap Patrick and to harm or kill Sean. Also, the reader meets Zoe, a police officer who has loved Sean for many years, more than as the friend he first sees her as.
Zoe is determined to protect Sean from harm and she quickly becomes attached to Patrick. I invite readers to pick up this story to find out just what happens between Sean, Patrick and Zoe. In "Holiday High Alert" by Lenora Worth, we meet Josie, the owner/manager of a day care/after care facility in Desert Valley. She and her aunt run a family oriented childcare facility . One of her students, Maisy, is a 10 year old whose father Dalton is a widower and police officer. Maisy shows a determination to be extremely helpful to all the children in the facility, as well as to her father.
When Josie starts becoming the target of malicious notes and attacks, Dalton takes on a protective role and tries to find the culprit. In the meantime Maisy, Josie and Dalton form a special threesome. This is yet another special holiday story that touches the soul. I recommend both equally!
Book Info:

 December 6, 2016 | Love Inspired | Rookie K 9 Unit
K-9 HOLIDAY RESCUE
Surviving Christmas by Valerie Hansen
When single dad Sean Murray returns from a war zone and discovers someone is following him, he turns to his old friend K-9 officer Zoe Trent for help. But as the threat escalates, can Zoe and her police dog find whoever is menacing Sean and his son…and make sure this Christmas isn't their last?
Holiday High Alert by Lenora Worth
After a cryptic note appears in the playground at Josie Callahan's daycare center, rookie K-9 officer Dalton West vows to protect Josie and the kids she loves—especially his daughter, Maisy. And with a stalker closing in, the widower and his four-legged partner are all that stand between Josie and a deadly Christmas.