In Royal Playboy by Nana Malone, Relationships can become rather tricky when you come from an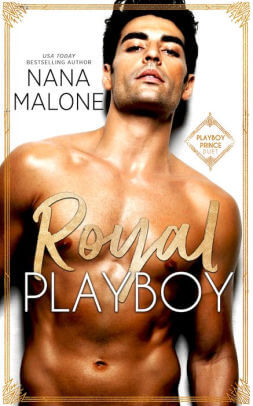 affluent family such as Xander Chase's. He's used to being pursued by women who only want him for his money and the social perks so it's a good thing he's not looking for anything more. Especially after a childhood trauma that left Xander feeling incapable of getting too close to anyone ever again. Then Imani Brooks walks into his life. The actress is a breath of fresh air and someone who doesn't seem overly wowed by Xander's wealth. What she does is to help him start to feel like he's not only capable of love, but that he also deserves it in his life.
'I loved that she trusted me. I wanted that. I wanted to be someone who could be trusted with her heart.'
Imani's upcoming role in a London play is the break that could launch her career for real. But there are a few issues to sort through unfortunately. From her sister and father back in the States who rely on Imani for what some would say is too much, to dealing with her ex-boyfriend showing up in her life again, she's almost at her wit's end. Meeting Xander and realizing the type of chemistry they have doesn't come around very often is one more thing to throw Imani's life into disarray. But how can she turn down the chance to get closer to Xander? Particularly since posing as his girlfriend could solve several of her problems all at once.
'I craved that elusive feeling only he could pull from me, and I wanted to experience that again. Even if it wasn't real. Even if it didn't last.'
Filled with smoking hot attraction, a fake girlfriend trope, and a plan to take down a smarmy family from the hero's past, Royal Playboy was a sexy, intense start to a new duet by Nana Malone.
'She was a hell of a complication I didn't need. I had a plan, and chasing after this girl wasn't part of it.'
What a tangled up, complicated situation Nana Malone created for Royal Playboy. It started off present day after tragedy struck and then we went back in time (four years ago) to when Xander and Imani met, following them from there. If you're not a fan of cliffhangers, you'll want to wait until book two comes out so you can read them together, as this installment left off at a hugely pivotal moment. There were also a couple of crossover characters from the London Royal duet, which was fun–although you don't need to have read them to enjoy this couple's journey.
Both Xander and Imani had some issues they were dealing with from their past, which is how they became a fake couple that ended up becoming all too real. I liked them both. I think Xander acted like the posh alpha he was. But he did have a good heart–and had been through some extremely difficult times personally. Something that affected him still. Imani was a good match for Xander. She was forthright enough to call him on some of his behavior, but she instilled trust in him and had an almost calming effect on Xander. I loved their bantering, too. Sexy, funny, and it really seemed to fit their personalities to a T.
Royal Playboy intrigued me right from the beginning with its multidimensional characters and fast-moving plot. Nana Malone will surely have many more surprises in store for us with the upcoming finale (Playboy's Heart) and I can't wait!
Book Info:

Publication: Published January 7th 2020 | Sankofa Girl | Playboy Royal #1
Vengeance is best served piping hot.
Prodigal Son. Black Sheep. Playboy Prince.
I've been called lots of things. Merciful is not one of them.
It doesn't matter what you call me, as long as I get what I want…
What I crave.
And it's not the crown.
She is the Princess I didn't see coming. The one I didn't plan for.
Until her, women came easy.
Until her, I wasn't sure I had a heart. Now that I know, I'll give up anything to have her…
Well…almost anything.