In Runaway Heir by Ruth Cardello, Nicolette Westerly is feeling like the family's outcast. Her siblings are all paired off and married, while she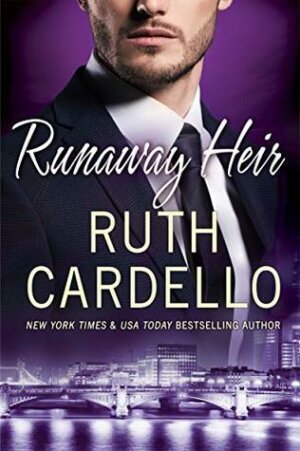 has no one, is trying to determine what she wants to do for a career, and now she doesn't even know if the man she considered her father her whole life is actually her father. Getting drunk at her brother's wedding, she puts the moves on Bryant Taunton, the son of her grandmother's enemy. Bryant refuses because she's drunk, but he feels a connection with Nicolette. When she leaves England to take a job in Iowa, he follows her to make sure she's ok. While Nicolette starts to find her footing, will their budding relationship be able survive the hatred between their families?
I really enjoyed the story and felt for both characters. Bryant only has his father, who doesn't come across as being a very nice person. Nicolette has her parents, who are divorced. Her father never came to pick her up for visitation when she was a child, and, after learning of her mother's infidelity and that one of her brothers had a different father, she doesn't even know if she's his daughter. Her grandmother is also hard on her, but I loved how Bryant called her out on it.
I enjoyed the characters in the town in Iowa, and Nicolette's determination to save the town from being absorbed into another town. While she doubted her abilities to help, the townspeople never questioned it, and Bryant lent her his full support.
I will admit, however, that Nicolette annoyed me at times. Her question about her father could have easily been resolved by taking a paternity test, but she refuses. I get part of her was scared to find out the truth, but a good chunk of the book deals with her feeling like she wasn't part of her family. Her doubts could have been put aside if she just took the test. Also, the rest of her family didn't treat the brother who had a different father any differently than the other children so I wasn't quite sure why she thought they would treat her differently.
I also found the excuse Nicolette's father gives her as to why he never showed up for visitation to be a bit weak. I understood it, but at the same time he could have arranged to pick her up at someplace other than the house. It seemed like he put his own feelings above his daughter's, which definitely didn't help with her insecurities. A part of me wonders if he would have even showed up to talk to her if Bryant hadn't strongly suggested that he needed to.
This is the fifth book in the series. While it can be read as a standalone, I would recommend reading the other books first. I haven't read the previous stories and I felt like I was missing some information about the family and how they interact with one another. It wasn't enough to take away from the story, but it did make me wonder about what happened to get to the point where Nicolette didn't even want to be around her family.
Runaway Heir is about finding one's place in not only a family, but in the world, as well as finding love. It's well-written, the characters are engaging and, at times, witty, and the subject matters covered are realistic and relatable for readers. Readers both new and old to the series will enjoy this one.
Book Info:

Publication: May 28, 2019 | Montlake Romance | Westerly Billionaire #5
The Boston Westerlys are reuniting for a wedding—a longtime wish for its matriarch. If only Nicolette, the youngest of the clan's siblings, could find love. With her true parentage suddenly in question, she feels like more of an outsider than ever. It figures that the one guest of any comfort is her grandmother's greatest enemy. Now, Nicolette's only impulse is to run. Disappearing to a small Iowa town, she can build a future on her terms without the Westerly name or money—or the secrets that have divided the family for years.
Despite his damning history with the Westerlys, Bryant Taunton recognizes a kindred spirit in Nicolette. He is drawn to the beautiful loner. When she vanishes, he follows. But Bryant has his own secrets, and gaining Nicolette's trust won't be easy. It might even require the help of the family she left behind.
Now, for Nicolette and Bryant, coming to terms with the past is the only way to make both their dreams come true, and to finally find a way home.