The Reluctant Boyfriend by Erika Kelly: Rosalina is passionate about creating perfumes. She's a trained chemist and perfumer and loves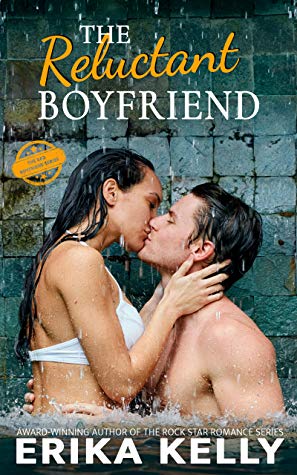 nothing more than experimenting in her lab for new ways to expand the family business. She's also a princess expected to marry and have the next male heir to the throne, as females can't rule or run the family business.
Brodie is adjusting to life as the last single Bowie brother. He doesn't see himself settling down and committing to anyone, and he's terrible at relationships. He's an athlete and really creative. He's great at coming up with new ideas and getting projects up and running.
Rosalina has always been a dutiful daughter. But learning of her fiancé's betrayal sends her running to Calamity. Rosalina finds inspiration and a sense of freedom, thanks to Brodie and a meadow of flowers.
"Because you're a princess who ran in front of my bulldozer. Because instead of booking spa time, you spent your first day in town doing your chemistry project. Because you dress like royalty one minute and the girl next door the next."
"Yes, and while I seem like a complex puzzle of contradictions, I'm really just a girl, standing in front of a guy, asking him to go into business with her."
Brodie is intrigued by Rosie and her passion. He's always thrilled by a new business venture, but she captures all of his attention which is new and different. They quickly become friends, as well as business partners, and he's someone she can trust. Rosie has to go back home, but they struggle with the pull they feel to each other. He supports her, understands her, and makes her feel desired.
"What's that supposed to mean?"
"It means you're juggling several different projects. If you lose interest in this one, then I'm out of luck. So, I'm not going to mess it up."
"By hooking up with me?"
"By falling for a guy who gets started with projects and doesn't follow through."
The Reluctant Boyfriend has passion, humor, conflict, and politics. Erika Kelly continues to entertain with great characters, charming settings, and family. Ms. Kelly brings to life two like-minded and passionate people in a seemingly impossible situation with banter, heat, and anticipation. The Reluctant Boyfriend can be read as a standalone, but I would recommend reading the entire series. Fans of Meghan Quinn and Jessica Peterson will enjoy The Reluctant Boyfriend.
Book Info:

Publication: Published August 13th 2019 | EK Publishing, LLC | Bad Boyfriend #4
Princess Gone Wild!
When Princess Rosalina discovers her fiancé cheating on her, she's done being dutiful. Jumping on a plane, she lands five thousand miles away in a world of hot cowboys, jean skirts, and tequila. Grabbing her chance to fly under the radar, she plans on acting out every single fantasy she's denied herself while trying to meet the expectations of her family and country.
Brodie Bowie doesn't know what happened. One minute he's wreaking havoc and tearing up the slopes with his brothers, and the next he's an outsider. All of them are in serious relationships. He just can't figure out why they'd put a ring on it when there's so much fun to be had as a single man.
Brodie's not the settling down type, but then he's never met anyone like the woman who jumps in front of his bulldozer, refusing to let him dig up his meadow. The feisty chemist and perfumer is everything he never knew he wanted.
Except she only wants a summer fling before she goes back to her real life…as a princess.
He doesn't fit in her world, and there's no way she can live in his.
But a love like theirs doesn't play by the rules.