Running on Diesel by Melissa Foster is the eighth book in her The Whiskeys: Dark Knights at Peaceful Harbor series. Once again Ms.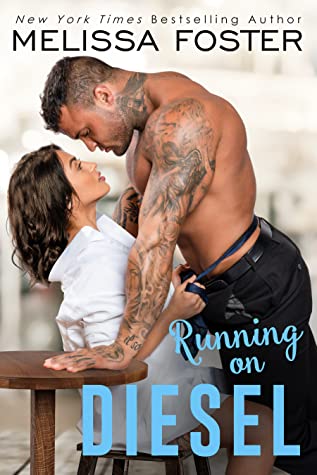 Foster tells an emotional story that tugs at your heartstrings.
Tracey Kline is a waitress at the Whiskey family's bar, Whiskey Bro's. She arrived in Peaceful Harbor an abused young woman fleeing her ex. Luckily the bus dropped her off in Maryland where she met a nice woman willing to drive her the rest of the way to her destination, the Parkvale Women's Shelter. The shelter is run by a Dark Knights family, the Dark Knights being a biker group dedicated to protecting their communities and doing good. The Dark Knights Whiskey family in Peaceful Harbor helped Tracey out with a waitress job at their bar. Tracey was grateful to them. She enjoyed her job. What she didn't enjoy so much was the, to her, overly protective attitude one of the bartenders at Whiskey Bro's, Diesel Black had toward her. She felt she should be very annoyed with him and she was, but she also felt butterflies in her stomach when he looked at her. How could she be so attracted to Diesel?
Desmond "Diesel" Black is a member of the Dark Knights, a Nomad member who didn't stay in any one place for long. He'd been bartending at Whiskey Bro's for two years because Red Whiskey asked for help, not only with the bar, but also with watching over Tracey Kline. Red wanted Tracey kept safe from her ex-boyfriend in case he ever found her. Diesel was happy to help. What he wasn't happy about was his attraction to Tracey. Diesel knows she isn't a wanderer like he is. How long can he hold out though?
Melissa Foster writes "feel good" romance that melts your heart with a delightful side of hot sex. The two main characters, Tracey Kline and Diesel Black are closed off, especially Diesel. When his single mother died of cancer when he was nineteen Diesel got on his bike and kept going, running from his hurt. The running ended when he admitted to himself how he felt about Tracey and she smashed the walls he had built around his heart. Tracey found trust and safety with Diesel. When they finally got together they made a perfect couple.
I very much enjoy Melissa Foster's writing style. I like how she incorporates the cutest kids in her stories. I loved this book!
Book Info:

Publication: September 15th 2021 | World Literary Press | The Whiskeys: Dark Knights at Peaceful Harbor #8, Love in Bloom #68
A funny, sexy, and emotionally riveting standalone contemporary romance by New York Times bestselling author Melissa Foster. RUNNING ON DIESEL is the perfect love story for those who enjoy fiercely loyal and insanely sexy alpha heroes, smart, sassy heroines, strong family bonds, bikers, babies, and more!
Desmond "Diesel" Black is a Nomad with the Dark Knights motorcycle club. He protects others with his life and always rides alone. Tracey Kline left the only family she had for a man who broke more than her spirit, leaving her untrusting and on her own. When a twist of fate reveals pieces of the other no one else sees, will they be able to help each other mend their past hurts and learn to trust the chemistry and connection that's too strong to deny?
~
The Whiskeys are perfect beach reads with depth of story, strong family ties, and a wealth of emotions. Small town love stories with happily ever afters guaranteed. The Dark Knights motorcycle club is not a typical MC book. These bad-boy bikers are tough, but they have hearts of gold…and they're not afraid to use them.
For more hot WHISKEY love stories, check out Melissa's other Whiskey novels.
TRU BLUE (Truman)
TRULY MADLY WHISKEY (Bear)
DRIVING WHISKEY WILD (Bullet)
WICKED WHISKEY LOVE (Bones)
MAD ABOUT MOON (Jed Moon)
TAMING MY WHISKEY (Dixie)
THE GRITTY TRUTH (Quincy Gritt)
IN FOR A PENNY (Penny and Scott)
And don't miss RIVER OF LOVE (The Bradens at Peaceful Harbor), the first story in which the Whiskeys were introduced!