Ruthless Rival by L.J. Shen: For Arya Roth her father means the world to her, after all he has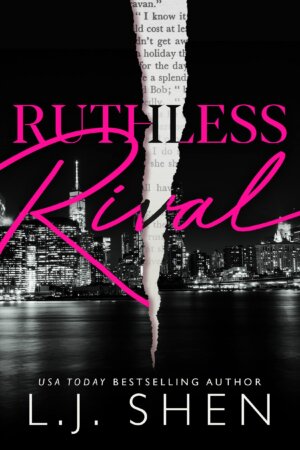 been the only active family member in her life from the time she can remember. So when some hot shot lawyer goes out of his way to try and destroy her fathers good name Arya decides to make it her mission to get to the bottom of this baseless lawsuit. However the last thing she expected was to feel such a magnetic pull towards Christian Miller the very lawyer that is about to turn her entire life upside down. But there is just something about Christian that seems so familiar, a feeling that she hasn't had since she was a child…
"Just remember, to become king, you must dethrone someone first."
All it took was one kiss to change the course of his life forever and that is exactly was Christian Miller has done, rebuilt himself into the successful attorney that he is now. Ready to go toe to toe with he very people that cast him aside as a poor child, but really it was only good fortune that dropped the Roth family back into his life, this time Christian determined to get his revenge on them for what they had done to him as a child. The one thing he wasn't supposed to do was fall for Arya Roth all over again, it would seem that old habits die hard and Arya is his biggest vice… the question now is can Christian have his revenge but still walk away with his heart intact?
Ruthless Rival was pure angsty perfection, I loved every single moment of this enemies to lovers / second chance romance. In true Shen style this book is packed with drama, suspense and oh so delicious chemistry. I loved that we got to see the past along side the events of the present as they unfolded, which helped get an understanding to this couples rocky past. Another thing I just loved about this book was the huge role that the book Atonement played in Arya and Christian's story. In a large way their relationship mirrored that of the one in Atonement, which only made Arya's love for this story all the more impactful.
"My soul . . . it feels calm when it's next to yours."
Arya was an interesting character, I will say there were a few moments that I really didn't want to like her, but ultimately it was hard to fault her for guarding her heart the way she has. I really liked that we got to see her step out of her fathers control much the same way that she had wanted to do when she was younger.
I really liked that even though she was born into such wealth she was still humble. Gosh her relationship with her parents was something all its own, talk about messing a girl up from young! Beatrice Roth well now as much as I wanted to hate her, my heart just broke for her, now to be fair this only happened mostly towards the end of the novel but once we got to see Arya and her rebuild their relationship it was pretty hard not to root them on. As for Conrad well its safe to say I want to give him a swift kick in the family jewels, talk about a controlling, mean, classist jerk that had no regard for anyone but himself! I will say it took our girl awhile to wake up to the fact that daddy dearest isn't all that she thought, but thankfully Christian was there to give her that much needed push.
Now for our devilish hero Christian Miller, good gosh did this guy just wreak my heart! I love a good underdog story and this was defiantly the case here, and boy did I love the fact that he went out and proved everyone wrong by making himself one of their own insiders! But did my heart just break for him, really he has been through the wringer, after feeling thrown under the bus by Arya and then having his own mother cast him out. Which made me love the bond that he formed with Riggs and Arsène all the more, these three made the cutest makeshift family. I loved getting to see these three lost boys find solace among each other and form their own family unit.
"We're good together. We have chemistry. We make sense. Doomed things are always sweeter, don't you know? This thing"
The chemistry between Arya and Christian was page flipping HOT!! I just loved the undeniable pull that they both felt and that even when they were supposed to stay away from each other they just couldn't. Their banter was just perfection, I loved getting to see them being competitive with one and other and trying to best each other. I loved that even with his deep hate and thirst for revenge Christian could not deny his love and need to protect Arya. I just loved getting to see their hate/love pull bring them together and for their relationship grow.
Ruthless Rival is the perfect angsty second chance romance that will crush your heart all while making you melt at the same time. I just loved getting to see these two broken hearts finding their way back to each other. If this book is anything to go by I can safely say that the Cruel Castaways series is going to be pure perfection!
Book Info:

Publication: May 3, 2022 | Montlake | Cruel Castaways #1
When she was young, Arya Roth became best friends with her housekeeper's son. Soon, friendship turned to young love, and when Arya dared him to kiss her, a chain reaction of disastrous events led to the boy being sent away and out of Arya's life.
Now, two decades later, Arya is an on-the-rise publicist with her beloved father as one of her biggest clients. So when her father is sued by a former employee, Arya sets out to prove that her father is not the monster he is accused of being. The only problem is the attorney who is determined to destroy her father's good name. Christian Miller is charming, ambitious, and devilishly good looking, and Arya has no idea he is that same boy who kissed her all those years ago.
Past and present collide as Arya falls hard for Christian. But when she finds out who he really is and about his obsession with getting revenge on her father, can she choose love over family?