Sailing At Sunset by Cindi Madsen: Danae Danvers has been working very hard for Barton Boats, so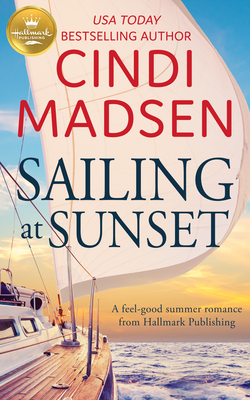 she is thrilled when she is promoted to Chief Marketing Officer. She finds out via her boss that the position is interim. First she must prove herself by taking her team on a seven day sailing cruise to promote team building and see if she can get them to work together smoothly. Danae is concerned because her ex-boyfriend is part of the team along with two women who seem to bicker with each other all the time.
Danae is a stickler for organization with all sorts of colored pens and sticker she keep in her planner. Although many fun activities have been included in this trip, she wants to have lots of work for an upcoming ad campaign.
The captain of their boat is experienced with taking couples and groups out for trips along the northeast coast. Josh was once a financial advisor, but left that stress behind to enjoy life on the water in his boat Solitude. When he first meets Danae, Josh is afraid she will turn this trip into all the bullet points in her planner instead of having her team loosen up a little. This is evident when she insults his class on knot making . Will the two of them be able to keep from butting heads and ruining the fun for the team?
Danae is an interesting character. She is practically OCD about her planner and strict schedules. The author slowly reveals parts of the reason why Danae needs to be so organized. The reader can feel more empathy as time goes on not just see her as ambitious and bossy.
Josh has made a life for himself that seems a bit lonely, though he does have family to visit. His background shows how he has retreated from "normal" life and has no plans to settle down, even though he is forty.
I loved the descriptions of the various places the group landed for side trips. It all came alive for me and made me want to visit someday.
The dialogue made the plot flow smoothly and was realistic. I felt as though I was eavesdropping on all that went on.
I highly recommend Sailing At Sunset. It is another heartwarming, sweet romance from Hallmark Publishing. I am so happy to see Hallmark has gotten into books along with their trademark HEA movies.
Book Info:

Publication: July 20, 2020 | Hallmak Publishing |
She can handle anything in her job. Even a week on a boat with a handsome but annoying sailor. Josh tells himself he's the luckiest guy in the world. Living on his sailboat and taking tourists on occasional chartered trips, he's not tied down to routines and responsibilities. He even named his sailboat Solitude, because that's what he enjoys much of the time.