Secrets of a Playboy by Janice Maynard is the third and final book in her Men of Stone River series.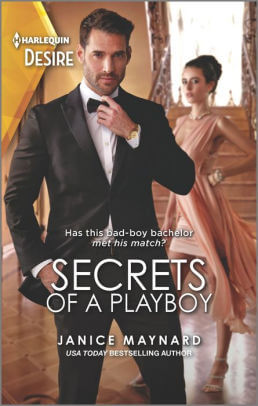 What fun to shock her old high school nemesis and okay, crush Zachary Stone. Glenderry School for Gifted Children and Bug (Frannie) and Stone Man (Zachary) was a long time ago. Now Frances, "Frannie" Wickersham is a top-rated security specialist. She has been hired by the Stone brothers to ferret out the spy in the company business Stone River Outdoor Co. who is stealing intellectual property and maybe sabotaging family members. Getting to know the Stone family is a real treat for Frannie. She is an only child and the camaraderie demonstrated by the Stones is a new experience for her. But it's the renewal of the attraction to Zachary Frannie plans to be wary of. After all she is sure Zach has well-earned his reputation as a partying playboy. Spending much time with Zach would be a big mistake but maybe it is time she steps out of her safe zone for a change. Who knows what could happen.
Zachary Stone is the Chief Financial Officer (CFO) of the family business. He knew he had to step up and get involved in Stone River Outdoor Co. after the death of his father and the major injuries to his brother Quinten sustained in the auto accident that killed their father. The brothers decided they needed a security specialist to investigate if any of their employees happened to be selling company intellectual property. He never guessed that F. Wickersham was his old friend from boarding school. Boy, Frannie sure has turned into a beautiful woman. Yeah, he shouldn't get involved with her but he couldn't resist. There is something different about her from other women he has known. Turns out to be a reincarnation of their high school relationship – hot and cold, fighting and making up again. They ended up friends but Zach has different ideas now – bedroom ideas. He just can't fight the attraction.
This story concludes the mystery of the spy stealing company intellectual property and solves the mystery of the Stone brothers' father's fatal auto accident. I enjoyed reading all three books in the series but Zach's story is the most compelling to me. He has the most issues to resolve and it took the strong, caring woman in Frannie to crack his walls and discover the true Zachary Stone. Their road to a HEA was very rocky so I loved that they came out so happy in the end. This has been a very entertaining series to read.
Book Info:

Publication: : July 1st 2020 | Harlequin Desire | The Men of Stone River #3
In business and pleasure, he needs his nemesis!
To catch the spy in his family business, Zachary Stone needs a first-rate security specialist. But the new hire is none other than Frances Wickersham, the girl who challenged a younger Zach at every turn. She's always pushed him. This time around, the long-legged beauty is challenging his playboy ways. Now that they are all grown-up, can they ignore their undeniable chemistry?