Scandalous Reunion by Jules Bennett: What do you do when you run into the person who broke your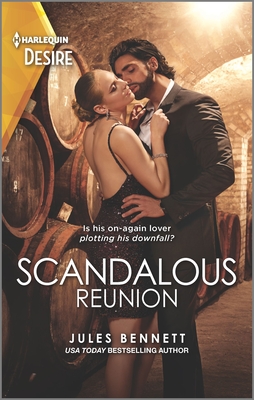 heart 16 years ago? Especially when that person is working for one of the people you hate most in the world?
Sam Hawkins didn't know the answer to that question. When his former lover left town she had it all, and was leaving to reach more of her dreams. Now she was back and working for the man who wanted to take his dream. While Same wasn't sure what he was going to do he knew somewhere in his soul he needed to get her away from her boss and keep her away.
Maty Taylor had it all, including a broken heart. She had left her lover and her soul mate when she went to law school, but she got her degree and who knows where she would be if not for that accident. In one swift move her entire life shifted and now she was back being blackmailed by a creep and forced into proximity to the one man she ever loved.
Maty and Sam may have been fated but then life happened and it was no more. However fate isn't that easily deterred but lies and secrets have a way of showing themselves in the most inopportune moments.
Wow! This one was all over the place in the best of ways. This is book two in a trilogy and while it can be read as a stand a lone it definitely is doing all sorts of things to an all over plot that readers will not want to wait to see play out. This story though has you all over the place with both the hero and the heroine as they are both dealing with some VERY real things and are dragging their (and your) emotions all over the place. This book is sure to be a hit and will have you counting days till book 3.
Book Info:

Publication: Published May 5th 2020 | Harlequin Desire |
Is his on-again lover
plotting his downfall?
"Did you think I'd kiss you
and then agree to your terms?"
Back in town after sixteen years, Tennessee attorney Maty Taylor has to persuade her ex-lover—billionaire bourbon maker Sam Hawkins—to sell his priceless distillery. The stakes are high, since Maty's being blackmailed to persuade him. Sensing trouble, Sam refuses the offer, even as renewed desire surges between them. But will his hidden agenda cost him a second chance with Maty?