The Banty House by Carolyn Brown is the author's latest gift to readers who love Women's Fiction.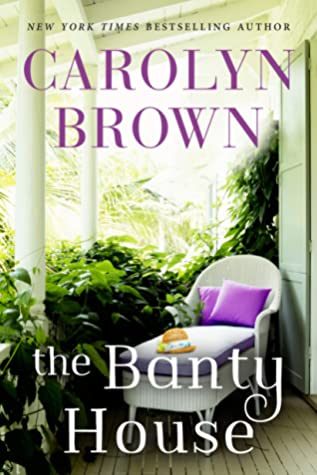 You all have heard of comfort food I'm sure. This story here is comfort words to make your heart happy.
Ginger Andrews didn't realize that stopping after getting off the bus and sitting on the bench in front of a beauty shop in Honcho, Texas would change her whole life. Here she is only nineteen years old, eight months pregnant with no money and no place to live. Until Connie Carson stepped outside the beauty shop for a smoke. Connie sat down beside her and got her talking and Ginger admitted she was just resting a minute before heading to the highway to hitch a ride. Ginger could tell that didn't sit well with Connie. But Ginger had to do what Ginger had to do. Connie wasn't having any of that. She called a Rule Number One and told Ginger she was going home with her and her two sisters, Betsy and Kate to The Banty House.
Connie knew Betsy and Kate would agree with her because they all abided by Mama's Rules. Ginger felt safe enough with going along with this. She was wise beyond her years. It felt real good to have a place to go, to have a roof over her head. She would stay for a couple of days, rest up and then move on. Even after learning the history of Banty House Ginger wasn't fazed a bit. Meeting handsome, kind and considerate Banty House handyman Sloane Andrews made this stop quite interesting. No man for her though. She had enough with the dead father of her baby. Hmm… We shall see.
Sloan Andrews mostly keeps to himself except for the time spent doing handyman work for the elderly Carson sisters at Banty House. He had been shipped home from the Army with an honorable discharge. But the guilt he felt after the deaths of his teammates after the bomb explosion hung with him. He didn't know if he could ever forgive himself. He was doing just fine with his deceased grandmother's dog Tinker and the handyman jobs. But then Ginger Andrews arrived at Banty House. There's just something about her. They quickly become friends and find themselves sharing things they never could with anyone else. Yes, Ginger is really special. He and the Carson sisters became quite attached to Ginger very quickly. He hoped she decided to stay in Rooster.
One can never go wrong picking up one of Carolyn Brown's books. She always manages to take her readers to wonderful towns with caring characters who usually are good for a few laughs and this book is an excellent example of this. The Carson sisters are elderly but quite feisty. Kate makes moonshine in the basement which she barters for goods and services for herself and her sisters. Betsy grows marijuana in her garden and partakes each night before bed and will even make you some special brownies. Connie is a cleaning whirling dervish. Ginger comes to love these ladies and Sloan too, of course. It ends up being an easy decision to stay in Rooster. I loved this story. I got a calming, feel-good high on this story.
Mama's Rules Rule!
Book Info:

Publication: May 26th 2020 | Montlake |
A homeless young woman finds an unexpected family in beloved New York Times bestselling author Carolyn Brown's novel of healing hearts and new beginnings in a small Texas town.
In the fading town of Rooster, Texas, all that's really left is a service station, a church…and the Banty House, a long-ago Depression-era brothel. For more than seventy-five years, Betsy, Connie, and Kate Carson have called their mama's house a home. The three eccentric sisters get by just fine with their homemade jams and jellies, a little moonshine on the side, and big hearts always open to strangers. Like Ginger Andrews.
An abandoned teen with a baby on the way and nowhere to go, she's given a room to call her own for as long as she wants. The kind invitation is made all the sweeter when Ginger meets the sisters' young handyman, Sloan Baker. But with a past as broken as Ginger's, he's vowed never to get close to anyone again. As a season of change unfolds, Ginger and Sloan might discover a warm haven to heal in the Banty House, a place to finally belong, where hope and dreams never fade.