A Little Bit Wicked by Melissa Foster is the first book in her The Wickeds: Dark Knights of Bayside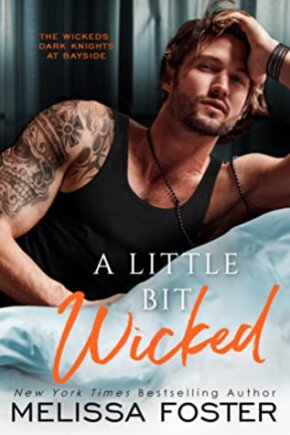 series. If you are looking for a truly romantic story, this is it!
Chloe Mallery loves her job as Director of the Lower Cape Assisted Living Facility/LOCAL. She has come a long way from the scared girl who did her best to keep herself and her younger sister Serena safe from her mother's constant parade of boyfriends. She virtually raised Serena. Her sister is happily married now but Chloe is still looking for her "forever." She has a type she is looking for; safe, steady, professional, no "bad boys" need apply. Too bad the dates she goes on with the guys she meets on dating sites all strike out. But her mother never brought home anyone like them. It was always a rough, "bad boy" for her mother and Chloe has no plans to face that type of abuse again. She was not going to end up like her mother. And as nice as he was to her and as great as all the things he helped her out with that includes Dark Knight Justin Wicked of the Wicked Motorcycle Club. Maybe?
Justin Wicked had been adopted into the Wicked family. His mother committed suicide to escape his abusive father when Justin was just seven years old. At that young age his father involved Justin in his heists. One day the heist went sideways and his dad got sent to prison and Justin got sent into the Child Protective Services system. Fortunately after a few bad placements he ended up with the Wicked family. Their love set him on the path to the wonderful, caring man he became. Chloe Mallery considered him just a friend but Justin didn't feel that way towards Chloe. He loved her from the first he met her and he wasn't giving up on getting her to feel the same way about him.
A Little Bit Wicked by Melissa Foster is the first book in her The Wickeds: Dark Knights of Bayside series. This story has some slow spots especially in the beginning, so slow I almost gave up on it. But, boy, I sure am glad I didn't. This story has got to be one of the most romantic love stories I have ever read. All the romantic moments planned by Justin with Chloe took my breath away. I fell in love with Justin. Chloe is one lucky woman! Both Justin and Chloe had difficult childhoods to overcome. The way they helped each other put the past behind themselves was heartwarming to read about. The sex scenes between these two are super sensual and the dirty talking adds so much to these scenes. The dialogue throughout this story was super entertaining whether it was teasing between Dark Knight members, brothers and cousins or the teasing and flirting between Justin and Chloe.
There are lots of secondary characters in this book and at first I couldn't keep them all straight. As the story progressed they all fell into place. Reading about all the good deeds and protectiveness of the Dark Knights of the Wicked Motorcycle Club was fascinating. For a non-motorcycle club story fan like me this turned out to be a great read and I look forward to more stories in this series.
Book Info:

Publication: June 17th 2020 | World Literary Press | The Wickeds: Dark Knights at Bayside #1, Love in Bloom #76
A captivating new standalone romance by New York Times bestselling author Melissa Foster. When the Dark Knights at Bayside and the cast of Bayside Summers collide, sparks fly, and trouble—or maybe love—is not far behind.
Set on the sandy shores of Cape Cod, the Wickeds feature fiercely protective heroes, strong heroines, and unbreakable family bonds. If you think bikers are all the same, you haven't met the Dark Knights. The Dark Knights are a motorcycle club, not a gang. Their members stick together like family and will stop at nothing to keep their communities safe. Their stories are told in the same loving, passionate voice readers have come to adore from Melissa. Some of the Wickeds' love stories will be hilariously fun, others will tear at your heartstrings with injections of humor, but they will all leave you wishing you could climb between the pages and join them!
In A LITTLE BIT WICKED…
What do a cocky biker and a businesswoman who has sworn off dating bad boys have in common? According to Chloe Mallery, not much.
Justin came into the Wicked family after a harsh upbringing by a thieving father. He's gone through a lot to become a true Wicked, and he's made them proud. Now he's ready to show the woman he loves exactly what type of man he is. But Chloe has worked hard to move past her difficult upbringing, and she's wary of getting involved with a man who looks like he's walked right out of it. When tragedy strikes, will their trying pasts draw them together, or will Justin's protective nature be too much for Chloe's independent heart to accept?