Secrets Behind the Billionaire's Return by Rachael Stewart: Felicity runs a B&B in the English countryside while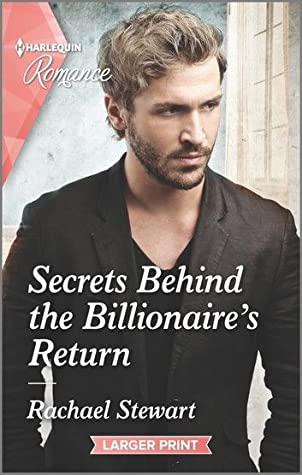 raising her daughter Angel as a single mother. Felicity had a teenage romance with Sebastian who was the grandson of the man who owned the nearby estate. She ended up pregnant with no way to let Sebastian know. He had literally disappeared in the night with his mother and brother leaving no message and no way to contact him. Felicity kept hoping he would get in touch with her, but that never happened. She was heartbroken, but continued on to raise her beloved daughter.
Fast forward sixteen years and imagine Felicity's shock when an adult Sebastian shows up. She is nervous to reveal the secret she has kept for all these years. She doesn't know how Angel and Sebastian will react to the news. Sebastian comes in calling Felicity by her nickname of "Flick" right away. He makes it clear he is only around until he can make plans to turn the Ferrington estate into a luxury spa. Neither wants to revisit the passionate feelings of the past.
The author slowly reveals why Sebastian took off with his family all those years ago and why he didn't contact Flick. He has had to deal with a mountain of family secrets over his lifetime. This makes him a very empathetic character. It's easy to admire Felicity. She has done an excellent job of being a mother and business woman.
There is something special about British stories. No wonder so many of us read them as well as enjoy the many series and programs now available thanks to streaming services. I have learned so much about customs and food that I never knew before.
Sebastian's brother plays a small part in this book. I am sure his story will be the focus of #2 in this duet. Rachael Stewart knows how to weave a tale that will touch your heart and spice up your life, too.
Book Info:

Publication: April 26, 2022 | Harlequin Romance | Claiming the Ferrington Empire #1
Find out what happens when a billionaire returns to Felicity's life in book one of Rachael Stewart's new duet, Claiming the Ferrington Empire, from Harlequin Romance.
The man she never forgot…The feelings she never lost…
Sixteen years ago, Felicity fell in love with the boy from Ferrington Manor. But their affair was short-lived when Sebastian vanished and she was left with the secret consequence of their love. Now he's back and his return sends shock waves through Felicity! Will the revelations about Sebastian's departure be enough for Felicity to succumb to the feelings that still draw her to him?