Set on You by Amy Lea: Crystal is all about body positivity, as a curvy fitness influencer she always tries to encourage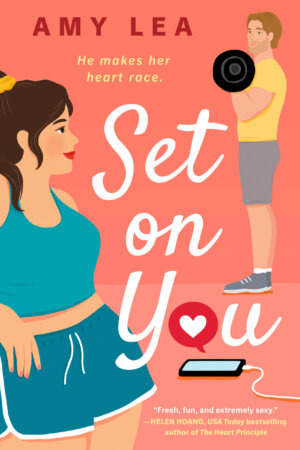 her followers to live a healthier more positive life rather than to try crash diets or to be the skinny instamodel image. After having a few less than great runs with her relationships Crystal has all but put men on the back burner for the forceable future.
With her mind set on her happy place the gym, the last thing she needs is for some hotshot firefighter to try and steal all her favourite gym spots! Less than thrilled with new gym member Scott cramping her style, Crystal is even more shocked to find out that Scotts granddad is going to be marrying her grandmother! Talk about an awkward extra layer, right? Well with the two now forced to spend more time together things begin to heat up between the unlikely pair but when an image of them goes viral and the mean trolls begin to attack will Crystal and Scott's budding relationship be able to weather this storm?
"I want everyone who doesn't conform to mainstream beauty standards to know that they are worthy of an epic love story too. We all are."
LOVED! I absolutely ate up this cute romcom! I loved everything about this book and then some. Firstly I have to say the grump meets sunshine trope is always a win for me and added to the enemies to loves trope and I was completely hooked. I loved the playful smart banter between Crystal and Scott, these two had just the right balance between snarky goodness and some swoon cuteness.
Crystal was such a boss character to follow, I absolutely adored her to bits. Her entire mindset on positive body image was not only a fresh take on this type of trope but also a pleasure to read. I loved that she promotes self love and a healthy lifestyle and that you don't have to be skinny to be happy. The thing that I loved the most about Crystal was that she loved herself just the way she was and she loved sharing this with other people. She was such a relatable character and the fact that we got to see the struggles that she faced only added to this fact. I have to also mention that I found that Lea handled the entire issue of fat shaming and fat phobic stereotypes throughout the novel. It really was refreshing reading a book where the lead female character wasn't afraid to be chubby, in fact she loved her body the way it was! Also I loved that Lea said curvy or full-figured rather than calling anyone plus size.
Who doesn't love a hottie firefighter? Well things really didn't get off to the best of starts for our leading couple and this largely had me worrying that I wouldn't like Scott! But never fear Lea packed this guy with loads of charm and the more we got to know Scott the harder it became to dislike the guy. I just loved the chemistry between Crystal and Scott, be it from them bickering to their flirty back and forth the connection was pretty evident. It was also really nice that they chose to be friends first before growing a romantic relationship. I really liked getting to see their relationship grow and progress as their families blended.
Good gosh were the families hilarious, I absolutely loved the grandparents and their late in life romance! I really enjoyed that this book was very real in that most of the things that happened were relatable. I have to say Lea has done a brilliant job in tying the book to the online culture, not only with the instagram post and stories but also with the negative spin that can come with being so public.
A beautifully written novel on self love and self acceptance with a sugary sweet love story thrown into the mix, Set On You is not a book you want to miss!
Book Info:

Publication: May 10, 2022 | Berkley Books |
Curvy fitness influencer Crystal Chen built her career shattering gym stereotypes and mostly ignoring the trolls. After her recent breakup, she has little stamina left for men, instead finding solace in the gym – her place of power and positivity.
Enter firefighter Scott Ritchie, the smug new gym patron who routinely steals her favorite squat rack. Sparks fly as these ultra-competitive foes battle for gym domination. But after a series of escalating jabs, the last thing they expect is to run into each other at their grandparents' engagement party.
In the lead up to their grandparents' wedding, Crystal discovers there's a soft heart under Scott's muscled exterior. Bonding over family, fitness, and cheesy pick-up lines, she just might have found her swolemate. But when a photo of them goes viral, savage internet trolls put their budding relationship to the ultimate test of strength.