Secrets of a Bad Reputation (Dynasties: DNA Dilemma #1)by Joss Wood is a book I have enjoyed from start to finish.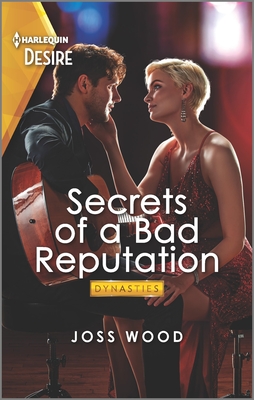 Just imagine this: a rock star with a HUGE bad boy reputation, a PR (not his) in charge of her family company's benefit gala of the year, a VERY old-school, misogynistic, controlling patriarch—demanding his son, daughter-in-law, and granddaughters to undergo DNA tests to delve into the family's past—and lots of secrets not only from the main characters, but from the Ryder-Whites. All this madness in only 218 pages!
Kinga (I LOVE this name!) Ryder-White is the PR in charge of the benefit gala that will celebrate the centenary of the event, and her grandfather has ordered the headliner has to be Griff O'Hare, the infamous bad boy of rock'n'roll. Obviously, Kinga is openly opposed to this decision, worried that the event she has worked so hard for could be at risk of being ruined due to his questionable behavior. Unfortunately, her grandfather has already made the decision, so the only thing left for Kinga to do is weather the storm. As she works with Griff, Kinga realizes that he's not as bad as the press says. That, and the attraction they feel for each other leads them to have an affair. Will this romance have a future?
Kinga and Griff couldn't be more opposite. Kinga, serious, contained, doesn't do anything impulsive or risky. Her life changed in her teenage years with a tragic event that left her marked. He, for his part, a man who has been in the entertainment industry with his twin sister, but has been away from the spotlight for a few years. His rebellious reputation precedes him and he appears to be a frivolous man. Nothing farther from the truth. He's loyal and very protective of those he loves, something totally in contrast to the image projected by the press.
Everybody knows the "opposites attract" thing and, although it could be cliché (in fact, there are some in the story, perfectly justified, of course), the author knew how to handle the confrontations between hero and heroine and steer them in the right direction. Also, the chemistry between Kinga and Griff is PHENOMENAL. The burning pages type, in fact.
This first book of Dynasties: DNA Dilemma brings many elements, topics such as mental health and bullying are presented in a delicate way. In addition, the book has some secondary characters that I found curious. It should be noted that the writing is very interesting; the fact that Kinga's parents' point of view is shown in the plot was something that caught my attention and I suppose we will see it in the rest of the series.
A book that has pleasantly surprised me, I can't wait to see how this series continues. The only thing? No epilogue and a little loose end that kept me wondering what happened there.
Book Info:

Publication: February 22, 2022 | Harlequin Desire | Dynasties: DNA Dilemma #1
Is this bad-boy superstar as bad as he seems? Find out when he meets his unlikely match in the first book of Joss Wood's Dynasties: DNA Dilemma series.
He uses his bad-boy persona as a shield
until she gets past his defenses…
After years in seclusion, music megastar Griff O'Hare is about to reboot his career. Performing at Ryder International's elite charity ball will rehabilitate his tattered reputation. But Kinga Ryder-White, who's managing the ball, is wary of risking its success on a charismatic, but unreliable, hell-raiser. She's the most uptight woman he's ever met—and the only one who makes him lose control. After a searing night of passion, will Griff risk revealing the secrets of his bad reputation?
From Harlequin Desire: A luxurious world of bold encounters and sizzling chemistry.
Love triumphs in this uplifting romance, part of the Dynasties: DNA Dilemma series:
Book 1: Secrets of a Bad Reputation
Book 2: Wrong Brother, Right Kiss
Book 3: Lost and Found Heir
Book 4: The Secret Heir Returns