The Rebound by Catherine Walsh: The last place Abby Reynolds wants to be is back home in Clonard, Ireland, but with her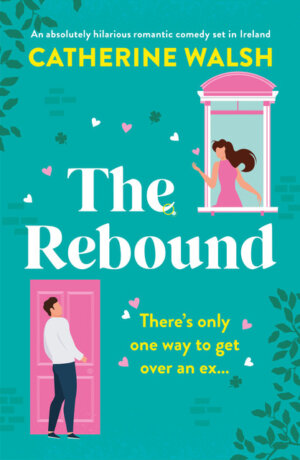 entire life in New York completely shattered Abby has little to no choice but to head home and regroup.
Now this wouldn't be so bad if only Abby and her sister Louise could actually stand each other or if Abby had kept in contact with any of her small town friends. Now stuck between a rock and a hard place Abby needs to figure out a way to come clean about her broken engagement and the fact she has absolutely no back up plan after her life saving crashed with McFarlane. If this wasn't enough Abby can't seem to help but feel drawn to Luke Bailey who is most definitely not the nerdy little boy that she remembers, he is all man and definitely all of what Abby shouldn't be wanting to get involved with. The one plus side to all of this is once you hit rock bottom, things can only go up from here.
I really enjoyed reading The Rebound, this slow burn romcom definitely checked a lot of the boxes, also how can you not love a quirky romance set in the picturesque Irish countryside? I did take a bit of time to get invested in the entire novel, things start off rather slowly but once you get to about chapter five things begin to pick up and you just can't help but root for Abby.
Abby was a really sweet main character, it was pretty easy to get invested in her entire journey. Not only was she hard working and determined to make the best life for herself but she genuinely a nice girl. I really enjoyed watching her reconnect with her sister and watching them form this new bond. Now to be fair initially I was not completely sold on Louise but I loved her deep desire to save the cetaceans; those are whales incase you were wondering, I sure had been, and that once Abby finally did open up to her she was fiercely protective.
Then comes along our boy Luke, talk about a fabulous glow-up right there! I really liked the way Luke and Abby first meet, this was hilarious. I really liked their connection and watching their chemistry slowly simmer as they tried to figure out what the next step in their lives would be. I will say it again their relationship was definitely a slow burn mixed in with a few setbacks but once they finally get together it was just the cutest.
As far as rebounds go I don't think this was so much a rebound as Abby was pretty ok with her break up. I have to mention the fact that friendship played such a big role in the entire story, right from the super quirky Beth that helped push Abby out of hiding, to Jess making a surprise trip from New York to give her bestie some moral support, right to Rory her oldest friend and first boyfriend who added such a laugh and welcomed Abby right back into the group like no time had past.
The Rebound is definitely a must read, this cute banter filled Irish romcom will have you laughing, tearing up and rooting this couple on.
Book Info:

Publication: February 14, 2022 | Bookouture |
A newly single girl. A tall dark handsome stranger. What could go wrong?
It's 7 a.m. on a Monday morning and Abby Reynolds isn't where she wants to be. She wants to be in her beautiful loft apartment in Manhattan, drinking a coffee with her fiancé.
Instead, she's heading back to the childhood home in rural Ireland she swore she'd never return to, with some big old secrets. Namely that she's suddenly found herself unemployed, homeless, and absolutely 100% single.
She's feeling all out of luck. Until the first person she meets after she touches down is an absurdly hot guy called Luke, who offers her a lift home. Gazing deep into his sparkling emerald-green eyes, Abby knows instantly that he's exactly what she needs to take her mind off everything. The perfect rebound.
It's a flawless plan. Until the next day, when Abby realizes who he actually is. Not just a stranger. He is, in fact, Luke Bailey, aka the boy next door. Luke Bailey who—so help her God—she's pretty sure she once shared baths with, back when they were kids. Not that she can allow herself to imagine him in a bath now, not without blushing from head to foot.
And judging by the smirk on his face, the same Luke Bailey who's known exactly who she was the whole time… And who, like everyone in the village, still thinks she's a high-flying New Yorker… who's getting married next year.
Abby is certain getting under Luke will help her get over her ex. But the truth is stopping her. Can she admit to everyone back home that she's single and has lost everything? Because, if she wants the boy next door, she may just have to…
The perfect feel-good romantic comedy that will make you laugh until you cry and fall completely in love. Fans of Sophie Kinsella, Marian Keyes, and Emily Henry won't be able to put this down!