Seduce Me by Kelly Elliott: Charleston, aka Charlie, was raised to one day take over running the family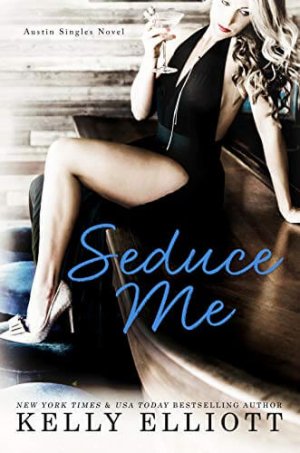 company. She's smart, savvy, feisty, and independent. While she had her own dreams, she's lived her life to follow in her father's footsteps and taken his advice to heart, even if it meant walking away from the best thing in her life.
Tucker also grew up in a wealthy family and dealt with the expectations of following in his father's footsteps. Instead, Tucker followed his own dreams and now runs a very successful bar. He's sexy, charming, his own man, and a definite catch.
Charlie and Tucker have a tangled history. He's the brother of her best friend and they had an amazing weekend seven years ago before Charlie sprinted for the door and left them behind. Ever since they have mostly co-existed in their group of shared friends, but their interactions are laced with barbs and a chemistry both are determined to ignore.
"What does that mean-huh?"
With a smirk, I answered, "I'm surprised with all the girlfriends you filter through that you have time to commit to something so…long term and serious."
His eyes turned dark, and heat pooled in my lower stomach. Leaning in closer to me, he spit out, "Committing was never my problem. That's all on you. Remember?"
Charlie now has quite the problem. She needs a relationship and Tucker seems like her best option, despite the time, distance, and bad blood. Neither have truly gotten over each other and this is an opportunity for a second chance. They engage each other in a number of games and half-truths as each have their own agenda, but they also have an opportunity to understand the past and get to know each other all over again.
"You want to date?" he asked.
"Maybe. I don't know. I'd like to give it a try."
The way he looked at me for the longest time had my dying to know what he thought.
Finally, he frowned and gave me a cautioned look. "Why now, Charlie?"
Seduce Me has drama, conflict, angst, loss, lust, and betrayal. Kelly Elliott crafted a rollercoaster of a second chance, frenemies to lovers story and makes Charlie and Tucker work for their ending. Ms. Elliott also developed an entertaining and meddling group of friends, who should be fun to follow in this series. Fans of Kristen Callihan and Meghan Quinn will enjoy Seduce Me.
Book Info:

Publication: November 6th 2018 | K. Elliott Enterprises, INC. | Austin Singles #1
What happens when you're forced to seduce the one person you vowed never to love?
You get screwed … in more than one way.
I walked out of Tucker Middleton's bedroom seven years ago, leaving him hurt and angry. Now I need his help; the only way I can get it, is to make him think I want him back.
The only problem is we have silently vowed to hate one another for the rest of our lives. In order to get Tucker to help me—I have to seduce him.
Easy right?
Hell yes! I'm the CEO of CMI Consulting. If I set my mind to something, I make it happen.
Charleston Monroe is playing me for a fool. If she believes for one second I'm going to let her walk into my life to help her save the very job that ripped her away from me, she's got another thing coming.
She thinks she can seduce me, and I let her believe she can. After all, I'm getting what I've always wanted.
Her.
Caution:
This story contains crazy hot sex, and one shaved pussy.