Seeing Double by Tamra Baumann: Dani is determined to finally be more independent. She's ready to find her own career and away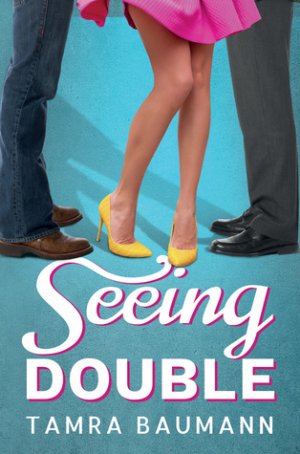 from the safety net of her movie star mother and sexy, charming, and hopefully so-to-be-ex-husband. She's loyal, generous, prone to finding trouble, and always has the best of intentions. Her ability to see things in dreams and visions has come in handy to help solve cases for Jake, but it's hard to not cross the line when constantly working with the man you are trying to divorce.
Michael was Dani's best friend, many years ago. Since they parted ways, Mike went on to a successful career in the NFL and is now working as a lawyer. He is intelligent, logical, has a strong moral compass, and is a loyal son. He adores his girls while trying to deal with his ex-wife.
Dani can't seem to catch a break. While running late yet again, she's waylaid by Michael. He is just as appealing as ever and she can't exactly avoid him as he works for her mom. Despite their complicated history, both enjoy the banter, bickering, and comebacks that result from their every interaction.
He blew out an impatient breath as he stepped through the metal detector. "Look at it this way. If your phone works, we don't have to see nearly as much of each other."
"Oh, but I so look forward to seeing your sneer in person." She batted her eyelashes at him. "What were the calls about?"
Dani has a lot to figure out and juggle. She's attempting to get her real estate career off the ground, move forward on her divorce, gain some financial independence, and maybe resume her friendship with Michael. Both are unsure about crossing that line again even though their chemistry is stronger than ever and they love to challenge each other. Between crazy criminals, family secrets, and lots of surprises, their desire to take that chance is definitely tested.
"Good." She gave him a light smack upside the back of his head. "That was for the 'got a hot date' comment." Then she began digging through desk drawers.
"Hey, I'm recovering from a serious head injury here."
"Keep it up and I'll give you a more serious head injury, buddy."
Seeing Double is entertaining, sexy, and surprising. Tamra Baumann brings tension, anticipation, drama, mystery, danger, and family. Ms. Baumann created an entertaining cast of characters. Fans of Janet Evanovich and Sydney Landon will enjoy Seeing Double.
Book Info:

Publication:  August 29th 2017 | Montlake Romance | Heartbreaker #1
Dani Botelli has vowed to step out of her demanding movie star mother's shadow, and is determined to start a new chapter in her life. But two men vying for her attention are making for double the trouble. There's Jake, her police detective almost-ex who wasn't so hot as a husband but still has the hots for Dani. And as usual, he needs her intuition and visions to help him solve a crime. Then there's her high school crush, Michael, a former NFL pro who's now her mom's hunky lawyer.
Working alongside Jake, while keeping her special gifts under wraps, is proving to be more dangerous than Dani realized. She needs to stay out of harm's way—and out of Jake's flirtatious path—long enough to find out if Michael is the one. But will her hard-to-explain hunches be the secret that comes between them?