Shelter for Penelope: Pick up a box of tissues. Susan Stoker's Badge of Honor: Texas Heroes series ends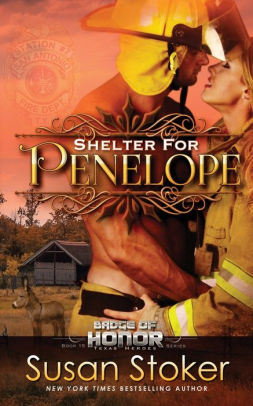 on a high note and with impactful emotion!
Penelope Turner is one brave, tough woman. But sometimes events can bend even the toughest. Notice I said "bend" and not "break." Penelope is on the verge of breaking due to her PTSD. (She was a member of the National Guard sent to Turkey on a Peacekeeping mission when her patrol was attacked by ISIS terrorists in the refugee camp they were patrolling. Her fellow soldiers were brutally murdered and Penelope was held captive in horrible conditions for months before being rescued.) Penelope is a firefighter but her PTSD has started to hamper her ability to do her job so she takes off with her support donkey, Smokey to "find herself." She leaves behind the man who loves her and has always had her back fellow firefighter, Tucker "Moose" Jackson and all her loving, supportive coworkers, friends and family. She finds her way back home but has she "found herself" or is she still lost?
Shelter for Penelope by Susan Stoker is the fifteenth and last book in her Badge of Honor series. I am very sad to see this series end. It has been filled with poignant subjects, great triumphs, brave, independent heroines and heroes and the First Responders who fall in love with them. Each story has been an emotional journey through tough times to a happily ever after that was touching and very satisfying. This has been exemplified in Penelope and Moose's book. Moose is the epitome of a loving, supportive man who would do anything for Penelope. Penelope bravely fights through her PTSD issues and comes to a place where she more can easily deal with her PTSD thanks to some therapy and most especially Moose and all her other "always there for her" friends and family.
This story made me cry, but it made me laugh and feel good too. Thankfully Susan Stoker has assured her readers that we will see glimpses of our favorite Badge of Honors characters in the future. Thank you, Susan Stoker, for that. I realize that this series has a lot of books involved but I recommend the whole series. The first book in the series, Justice for Mackenzie is free on Amazon.

Book Info:

Publication: October 22nd 2019 | Stoker Aces Production | Badge of Honor: Texas Heroes #15
Dubbed the "American Princess" after her rescue from months in the hands of ISIS, soldier and firefighter Penelope Turner has struggled silently since her return to Texas. The media, the danger of her job, the pressure of knowing lives are in her hands…all of it and more has combined to slowly fill Penelope with seething guilt and doubt. Missing memories from her moment of capture cause even more angst. Is she responsible for the deaths of her Army patrol unit? And without knowing what happened, how can she be trusted by her fellow firefighters—or trust them in return?
Worse…how can she ever be worthy of the man who believes in her most?
It took seeing Penelope in the hands of terrorists—in viral videos seen around the world—for Tucker "Moose" Jacobs to realize just how much he loved his fellow firefighter. He died waiting for her rescue, then died all over again when Penelope abruptly left Texas, trying to outrun her past. Now that she's returned, the kid gloves are off. Moose is a patient man, but even he has his limits. He loves Penelope, and he knows it's past time for her to face her fears, and remember she has an entire tribe of friends who not only have her back, but need Pen to have theirs, as well.
In the end, Penelope will have to trust Moose, her friends, and most of all herself, if she's going to make peace with her past…and have any kind of future.
** Shelter for Penelope is the 15th and final book in the Badge of Honor: Texas Heroes Series. Each book is a stand-alone, with no cliffhanger endings. Penelope's story started in Protecting the Future, and over the years, she's struggled with her inner demons. Read on to see her finally get her HEA.