The Seduction of Lady Phoebe by Ella Quinn is the first book in The Marriage Game series. It was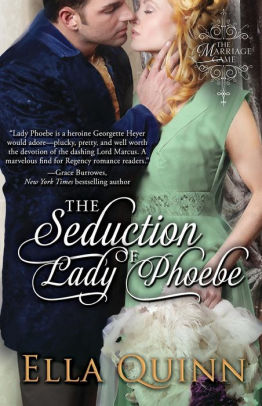 first released in 2013 and it was one of the first books published for Ella Quinn. It is was an enemy to lovers story and had a second chance at love added to it.
Lord Marcus Finley was the second son of the Marquis of Dunwood and was being banished to the West Indies before his behavior could create a scandal. While attending his last house party in England, he falls in love with Lady Phoebe Stanhope. He was angry for finally meeting the only woman for him and having to leave England. While drunk and not thinking clearly, he decided to try and convince her to elope with him. He was not expecting Phoebe's reaction to his kiss.
Lady Phoebe was fifteen and hadn't even had her come out, but she was sure she was in love with Marcus until he cornered her and tried to kiss her. She was not a conventional society lady. She had been taught to defend herself so when Marcus grabbed her, she hit him in the nose and then told him off. She was devastated and from then on she guarded her heart, not trusting her judgement of men. She was glad he was being sent to the West Indies and she hoped to never see Marcus again.
Upon learning Marcus was back in England and traveling to see his sister (Phoebe's sister in law), she leaves for the London season earlier than originally planned. Marcus hoped for Phoebe's forgiveness and the opportunity to court her. Phoebe didn't recognize him at first and was intrigued by him. Phoebe agreed to allow him to court her once she found out his identify, but she demanded to do it at her pace. As the season progresses, a newcomer to London becomes obsessed with Phoebe and attempts at kidnapping starts happening. Phoebe has to decide if she trusts Marcus enough to marry him.
The plot of the book was good, but the pace slowed down in the middle. I like the slow buildup of their courtship, but there was a lot of emphasis on the "trauma" Phoebe felt from the encounter at the house party. I would have preferred to read more about their courtship and less about her "trauma." Her focus on the event didn't seem to fit with her character as a strong, independent woman. Overall it was a good book from a wonderful author.
Book Info:

Publication: October 29th 2019 (first published January 1st 2013 | Zebra Books | The Marriage Game
Phoebe Stanhope is not a typical Lady. As feisty as she is quick witted, no one can catch her, especially when she is driving her dashing phaeton with its perfectly matched horses. And unlike her peers, experience has guarded her against a growing list of would-be suitors. But when she encounters Marcus Finley, what she fears most burns deep within his blue-eyed gaze…
For Lord Marcus, the spark of recognition is but a moment in the love he has held these many years. Now that he's returned to England, all the happiness he desires rests on Lady Phoebe never finding out that he was the one who turned her heart so cold and distant. He must work fast to gain the advantage—to convince her what she wants is exactly what she denies—but in order to seduce her into his arms, he must be willing to give up more than he can control…