Shelter for Tory by Nicole Flockton: is part of author Susan Stoker's Police and Fire: Operation Alpha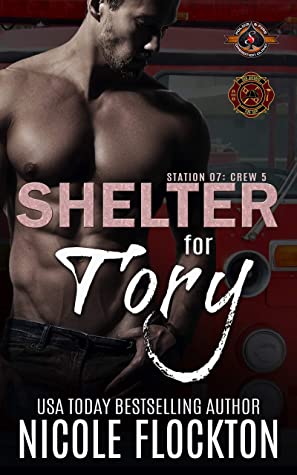 world and is the first book in Ms. Flockton's Station 7: Crew 5 series.
Tory Chapman is a genius, a very, very shy genius. She earned her Ph.D just before she turned twenty-one. She hadn't planned to work on burn research but now finds it quite fulfilling. Plus she works with two women who have become her best friends, Quinn and Sophie. They are both married to firefighters with the San Antonio Fire Department and that's how she met Shane "Mick" Hall.
Quinn was hosting a backyard BBQ and invited her. Both Quinn and Sophie insisted she attend even though they knew that because of her extreme shyness she didn't want to go. So she showed up but really didn't want to leave the comfort and security of Quinn's house, but Quinn shooed her outside and that's when she first saw Mick. It was like a scene from one of her romance novels, a magic moment. Their eyes met and they both seemed to freeze and just stare. Tory felt like she should escape back to the house and she did just exactly that when that sexy, hunk Mick came over and spoke to her. The next day her traitorous friends set her up to work on a fundraiser with Mick. Tory and Mick set up a meeting to discuss plans for the fundraiser. Tory was shocked to find that she felt comfortable with Mick and she could relax and talk to him. They spent time together planning the fundraiser and all was wonderful – until the harassment started. She was scared to death. Mick to the rescue!
Mick Hall is a SAFD firefighter from Australia under contract. His contract was due to run out in six months but he didn't want to go back to Australia. He loved living in San Antonio and he loved it even more after meeting Tory Chapman. He was very attracted to her from the first moment they met. He never felt like this before. Getting to know Tory while meeting to plan the fundraiser helped to make his attraction grow. She was so special. When the harassment started he knew he had to do everything he could to protect Tory. He didn't want to lose her.
The plot is well-developed and the storyline is intriguing. I loved the two main characters, Tory and Mick. They just seemed perfect for each other. Mick brings out the best in Tory and Tory shows Mick how wonderful love can be. It was great getting to see the crew of firefighters from Susan Stoker's world and also to be introduced the members of Crew 5. I look forward to the stories of the other firefighters in Crew 5.

Book Info:

Publication: July 14th 2020 | Station 7: Crew 5
Tory Chapman wants what every girl dreams of: the love of a man who would walk through fire for her. Unfortunately, her shyness, as well as being a total brainiac are not the winning formula to find Mr. Right. But she does have a knack for locating Mr. Wrong, and this time he turns out to be a cocky firefighter with a killer Australian accent.
Shane "Mick" Hall loves working with the San Antonio Fire Dept., but with his contract ending and no signs of an extension, he has to make some big decisions. San Antonio is home to him now and the last thing he wants to do is go back to Australia. With his life up in the air, he doesn't have time to start a serious relationship. No matter how right it feels.
Thrown together to organize a joint fundraiser, Mick and Tory spend a lot of time together. Soon they can't deny the intense attraction burning inside of them. When trouble comes knocking at Tory's door, Mick will do everything to keep her safe. But will it be enough?