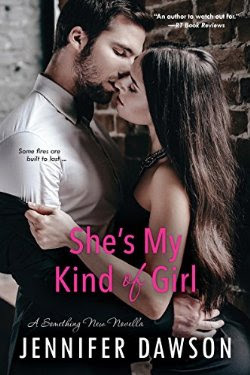 In She's My Kind of Girl (Something New #4.5) by Jennifer Dawson, returning to Revival, Illinois wasn't in Darcy Miller's plans, but when her mom begs her to come home and save her house from being seized for plans to reinvigorate the town, Darcy returns home. Going head to head with her ex-boyfriend, Griffin Strong to save her mom's home will be hard, but what else can she do? The question is, can she save her mom's home without falling for the one man that she's never forgotten?
"Come to my office tomorrow and I'll lay everything out for you. You'll see that taking the terms Revival is offering your mom is the best and only option."
"Fine. I'll be there." She took a few steps toward him and poked him in the chest. "But prepare for a fight, because I'm sure as hell not going down without one."
"I'd expect nothing less."
Having loved the other books of this series, I couldn't wait to read this one, and I've got to say that with this story being a novella, I finished this book fairly quickly. Not only because it's a second chance romance, but because it encompasses two wonderful main characters that prove a challenge for each other. Will Darcy be able to convince Griffin not to take her mom's house? Will Griffin convince Darcy to stay when they still love each other so much?
As for the dialogue, it was intense due to the main characters back stories and this couple's past history as well as how Darcy returns to town and some people make her feel like she's not good enough for Griffin. Yet, I liked how she handled those people, especially one of the secondary characters that wanted Griffin for herself. But most of all, I liked the playful banter between the hero and heroine. The moment she takes him by surprise when she offers information about her career was priceless.
Griffin shook his head, hoping it would help clear it. "And what exactly does a sex blog entail?"
Her spine drew even straighter. "I write how-to columns, relationship articles, give advice, and do product reviews."
That got his attention. "Product reviews?"
"Yes, right now I'm reviewing the Mac Daddy." She grinned and held her hands a foot apart. "A realistic dildo."
Both the main characters were incredible, and their growing relationship kept me turning the pages, as I wanted to know which one of them would give up everything they've worked so hard for. Would it be Darcy or Griffin? They faced an uphill battle with Darcy believing she doesn't belong in Revival anymore and that New York is home while Griffin doesn't see any way that he can leave Revival.
Darcy is strong and brave for returning to Revival, and I liked how tenacious she is because she cares about her mom. Yet, at the same time, I felt sorry for her. Being in Revival brings up a lot of painful memories for her, not only from how people treat her now, but with Griffin as well. The fact that even though he loves her, it seems he doesn't love her enough to leave and she doesn't love him enough to stay. Neither are willing to compromise, which came through loud and clear in the emotions of the hero and heroine and certainly had me a little bit of an emotional mess, since they seemed so right for each other.
While Griffin, he's hard-working, confident and charming. Certainly, Darcy proves a challenge for him, but she's a challenge that he's determined to win over in more ways than one. Such as with convincing her to do what's right for the town, and proving to her how much he still loves her in hopes that they'll get things right between them finally, since neither has stopped loving the other. Honestly, for me, he's a hero I will not forget for a while, especially with what he does to prove Darcy wrong in an assumption she made concerning herself in front of most of the town. That moment made me smile, because Darcy would never be someone he'd spend time with without wanting everyone knowing about it.
She raised her chin. "I can't believe you turned into such a bastard."
He shrugged. "Most people think I've manage to turn myself around. "
"You're a sellout." She pushed past him. "You're everything you never wanted to be."
"I'm not eighteen anymore, Darce."
She swung around. "Too bad. You were a better man then."
The way Griffin teases Darcy about their chemistry and a certain item she's doing a product review on made for some seriously strong sexual tension, which spilled over onto the pages in scorching and nicely-detailed sex scenes. Darcy knows being with him again is probably a bad idea, yet there was no denying their chemistry. It was just too strong and they had too much history between them to be able to forget all the time they were together in the past.
Overall, Ms. Dawson has again proven she's a superb author in the contemporary genre. The way this story ended was absolutely perfect, and the right decision was made on which of them changed their life so they could be together. Besides, it was good that one surprised the other when it seemed all hope was lost towards the end of the story when they parted ways. I would recommend She's My Kind of Girl by Jennifer Dawson, if you'd like a short, hot read encompassing a second chance romance.
Book Info:

September 27th, 2016 | Kensington Books | Something New #4.5
In high school, they'd burned fast and hot. Now is their chance to find out if the sparks that linger will ignite a whole new flame.
The only thing Darcy Miller ever wanted more than gorgeous troublemaker Griffin Strong was to shake off the dust of small-town Revival, Illinois, and head to the big city—even if she had to leave him behind. Ten years later, Darcy is the ultimate New Yorker, writing a sex blog and living on designer cocktails and the pulse of urban life. That is, until she hears that Revival plans to seize her mother's house right after the holidays, thanks to the new mayor—who is none other than Darcy's ex…
Griffin couldn't have asked for a more dangerous Christmas gift. Curvy, sassy Darcy is every bit as delectable as the wild child she was in high school—and just as determined to stir up problems. But Griffin learned long ago to straighten up and fly right in order to make changes in the town he loves. Keeping his reputation wholesome is a big part of that. If only Darcy didn't make him want to take his place on the naughty list with her, right under the mistletoe…