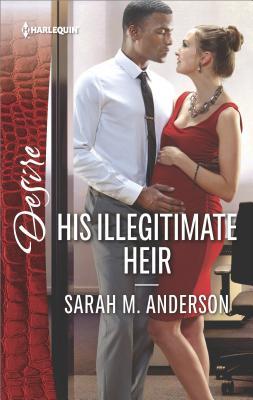 His Illegitimate Heir by Sarah M. Anderson: When you are so bent on revenge do you think you might be able to see what a gift you've been given?
Casey Johnson knew she was a young female brew master but she knew she had earned that right and that she deserved it. She was going to live and breathe and fight for her employees when she heard the new CEO was going to make some changes. What she wasn't expecting was the other changes that he brought with him.
Zebabiah, Zeb, Richards wanted revenge. He wanted to get back at the family that hadn't and wouldn't acknowledge him. He wanted to be better and to make sure they knew that he was better than they were. So he took over the family business and he was sure he was going to make it known that he was part of the family whether they wanted him to be a part of it or not.
When Zeb and Casey are in the same room together the sparks are hard to ignore, but when one doesn't speak and the other doesn't think will they ever get on the same page?
This is a well written novel in the Beaumont Heirs series, though it can be read as a stand alone. It is much more enjoyable and understandable if you have read the others though, as some commentary makes a lot more sense. The players are built well, but there is just something missing from keeping it from jumping off the page. Overall this is an excellent story though and well worth the plot rollercoaster it takes you on. Definitely will whet your interest for the next in the series.
Book Info:

 Expected publication: October 4th 2016 | Harlequin Desire | (The Beaumont Heirs #6)
This boss broke all the rules for just one night—a night with consequences…
A Beaumont by blood, Zeb Richards has waited years to take the company that's rightfully his. But ownership of the Beaumont Brewery means dealing with a formidable adversary: brewmaster Casey Johnson. She's insubordinate and opinionated—so why does Zeb burn to lay claim to the tempestuous beauty?
Casey earned her place at the company she loves, and no CEO—no matter how irresistible—will come between her and her ambitions. Until one night of wild abandon shifts the balance of power. Now Casey is falling for her boss…and expecting his baby!