Shine Not Burn (Shine Not Burn #1) by Elle Casey: Andie has her plan. College. Law degree. Married by 27.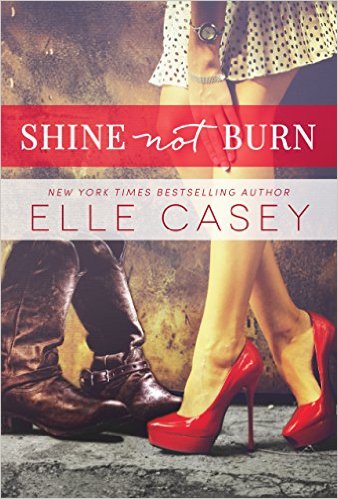 Partner in firm by 30. And totally set with kids by 35. Workwise, all is going well, but she just broke up with a marriage candidate –ahem- boyfriend, and now she's in Vegas for her friend's bachelorette party. While there, Andie meets Mack, a real cowboy, and completely unfit for her plan, and for one night she feels the passion she's been missing.
Two years later, Andie and Mack meet again. She moved on, ignoring the night and finding a different man perfect for her plan. But Mack refuses to take no for an answer once he has her near again. He wants Andie and he's going to fight for her, make her see that maybe her plan doesn't have to be everything.
"And I noticed for the next three hands of blackjack, all of which we both won, he got closer and closer to me, until I turned sideways and one of his thighs was in between mine. If I scooted any closer to the edge of the stool, I'd be humping his leg, but I totally didn't care."
I really enjoyed Shine Not Burn. Andie is neurotic as all hell, but she's cute and sassy and totally adorable. And Mack. God, Mack. I love him. He adores Andie. And he's so sweet with it, too, it just tore my heart. If I were Andie, I would've jumped him immediately, no questions asked or desire to stick to plan. But that's just me.
A big issue for me, however, was the end. It got very confusing and some characters, such as Andie's fiancé, took a complete 180 in character. It was weird, and definitely hurt what was otherwise a very entertaining story.
Despite its odd ending, I still highly recommend Shine Not Burn. It takes place in a great country town with an awesome cast of characters making up Mack's family.
Book Info:

Publication: July 28, 2015 | Montlake Romance | Shine Not Burn #1
Andie Marks, known as "Party Girl" in her college days, is now a whip-smart lawyer on the fast track to success. Determined to move on from a bad break-up, she joins her girlfriends for a wild bachelorette weekend in Las Vegas, promising to let her hair down just this once.
Vegas is a blur of cocktails and blackjack, and in the middle of it all she meets Mack, a real-life cowboy with a winning hand and an irresistible body. They get lucky in the casino and luckier back at the hotel, a hot night of passion that was definitely not part of Andie's life plan.
By dawn Mack is gone and all she has to remember their one-night romance is a hangover and a pile of casino chips. Or so she thinks…