Short Soup by Coleen Kwan 
is the story of childhood best friends Toni Lau and Dion Chan set in Piper Bay, Australia. They are in their late twenties and have found their own way in the world: Toni is a CPA who is moving back from London to Sydney, and Dion is now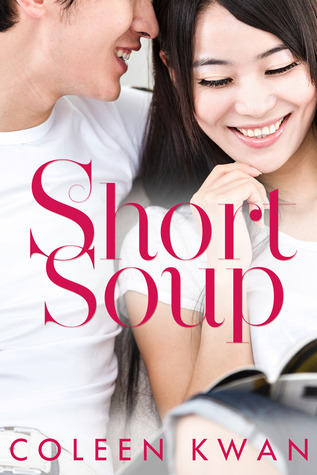 managing their parent's Asian restaurant the Happy Palace after working in Hong Kong kitchens. Toni is still reeling from her recent divorce to her college sweetheart, Nick, and has come home to Piper Bay for a few days to celebrate her birthday.

It has been about five years since Toni and Dion have seen each other and a lot has changed. They both have matured and have been through their own struggles. Dion finds it difficult to hide his true feelings for Toni as they become reacquainted and worries that it may derail his shot at taking over the family business. Toni is equally shocked at the feelings she is developing for her longtime friend and doesn't want to complicate their relationship further.

I thoroughly enjoyed this friends-to-lovers story. The conversations are realistic and gives insight into the changes in our characters lives and culture. Their struggle to become independent yet still honor their family and their values is certainly relevant anywhere in the world. I loved the way the author still kept an element of playfullness in their relationship…especially the love scenes! Although this is a relatively short book, it is a very satisfying read and is a wonderful way to spend a weekend.

Rating:
Book Info: Publisher: Escape Publishing – Harlequin Enterprises, Australia Pty Ltd (December 1, 2012)
A story about best friends, childhood dreams, and the healing power of Chinese food…
Toni Lau and Dion Chan were connected from birth — first via their parents' jointly-owned restaurant, then via their bone-deep friendship. But children grow up, and Toni leaves their sleepy hometown looking for more than it can offer.
Now Toni is back, raw with the knowledge that not all childhood dreams come true. Dion is on the brink of realising that both his own ambitions and his childhood friend have the power to derail all of his hard work. But loving Toni — and winning her love in return — has always been on his wish list. Can Dion really put her on the back burner while frying up his chef dreams? Or is it possible that together they can come up with a recipe for happiness?