Shut Out by Kelly Jamieson is the first book in the New Adult Bayard Hockey series. In it we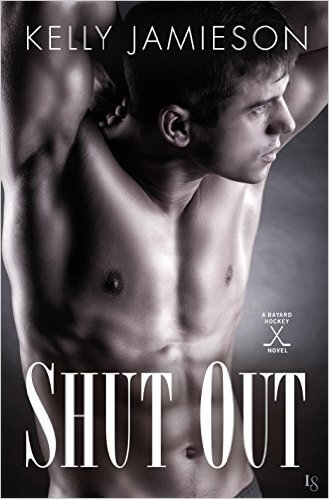 have Jacob Flass, a hockey player in the junior league. After a night gone wrong leads him to being kicked off the team, his only option to enter the NHL draft is to go to college. With the help of his former coach he winds up at Bayard College, where he meets Skylar Lynwood.
Skylar, a sophomore at the college, also teaches the mandatory sexual assault prevention and awareness program that all new and transfer students attend. After meeting Jacob at a party, she's surprised to find him in her class. She's even more surprised when he proposes that they pretend to be in a relationship to keep the puck bunnies away from him.
"How much time is this fake boyfriend going to require?"
"Ha. We just need to be seen together once in a while. You know…lunch. Studying together. Maybe the odd time we could go to a party together. The guys get on my ass if I spend too many weekends studying."
"As do my friends."
She appears to be actually considering this genius yet somewhat insane idea.
For the most part I enjoyed the book, but there were times where their ages really showed. For instance, Skylar was upset when her friend wouldn't let her explain something, yet she turns around and does the same thing to Jacob, which hurts him. Instead of hearing him out, she assumes the worst instead of listening to his side of the story. Jacob didn't want to get too close to Skylar because he was afraid of a repeat of what happened in Canada and he was afraid getting involved would impact his chances of getting into the draft so he ran hot and cold with her.
Shut Out deals with some heavy topics, including rape and suicide, but there were also some light moments as well. It was a good start to the series and I look forward to reading about the rest of Jacob's teammates.
Book Info:

Publication: June 7, 2016 | Loveswept | Bayard Hockey #1
The Bayard College hockey team isn't where Jacob Flass thought he'd be a season ago. He was a rising star in the Canadian major junior league, cruising toward a spot on an NHL roster—until a single disastrous night on the town brought it all crashing down. Now he's out of options, except for playing well, studying hard, and staying away from girls. He's not supposed to be flirting with the hottest, sweetest chick he's ever met. But how could he possibly stay away?
Skylar Lynwood knows that Jacob is out of her league. She's just trying to go with the flow, which isn't easy when six feet and four inches of total hockey hunkiness is making a play for her one moment, then giving her the cold shoulder the next. Skylar's head tells her that this rugged athlete isn't worth her time, but her body says something altogether different. Risking her heart for Jacob may be the craziest thing she's ever done . . . but she won't let him shut her out.