The Trouble with Christmas (Credence, Colorado #2) by Amy Andrews: Can an artist who loves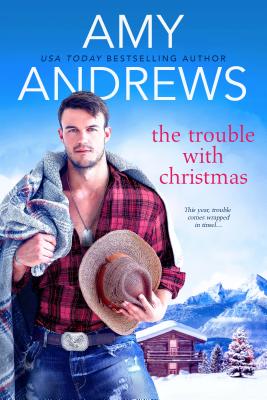 Christmas and the bells and whistles that go with the holiday find it in Creedence, Colorado? Oh! And can she find her artistic muse there too? Well, maybe!
She didn't feel as though she was a "true" artist. Even her very talented artist mother expresses this less than encouraging description of her work. She was making a very good living though painting copies of famous art for private owners and museums to display. She certainly wasn't going to starve or become homeless any time soon. Okay then. She has let her friend Winona talk her into spending a month during the Christmas season in Creedence, Colorado to help her find her muse. She went along with Winona's suggestion and rented a cottage on a ranch there. Then she was greeted by hot, sexy Joshua Grady, the owner of the ranch's nephew who now works it. Bam! She found her muse – in spades. Suzanne St. Michelle (Su-sahn Saan Meeshell as she pronounces her name) HAD to paint this man. She found Grady silent and taciturn but boy did he light up her artistic vibes in spite of his lack of words and standoffishness. Joshua Grady is the definition of "a man of few words." Suzanne has her work cut out for her. For sure!
The Trouble with Christmas by Amy Andrews is the second book in her Creedence, Colorado series. So far this series has been a lot of fun to read, especially this story. You have a town where the ratio of men to women is so lopsided the town council advertised for single women to come and check out the town in hopes some would stay. Our feisty, Christmas-loving heroine travels to Creedence because her friend Winona, who moved there during "the great female attraction roundup" occurred, talked her into it. From there this author developed an enchanting storyline that tickles the reader's Christmas spirit along with a couple of opposites who you never would guess could attract do so.
Come join the Christmas fun in Creedence, Colorado. You'll have a good time!

Book Info:

Publication: September 24th 2019 | Entangled: Amara | Credence, Colorado #2
"[W]ill generate holiday spirit in even the most Scrooge-like reader." Kirkus Review, Starred Review
All Suzanne St. Michelle wants is an over-the-top, eggnog-induced holiday with her best friend in Credence, Colorado. But when her hoity-toity parents insist she come home for Christmas in New York, she blurts out that her sexy landlord is actually her boyfriend and she can't leave him—Joshy loves Christmas. The more twinkle lights the better.
Rancher Joshua Grady does not love Christmas. Or company, or chatty women. Unfortunately for him, the chattiest woman ever has rented the cottage on his ranch, invited her rich, art-scene parents, and now insists he play "fake rancher boyfriend" in a production of the Hokiest Christmas Ever. And somehow…she gets him to agree.
Apparently, he'll do anything to get his quiet life back. At least there's mistletoe every two feet—and kissing Suzy is surprisingly easy. But in the midst of acres of tinsel, far too many tacky Christmas sweaters, and a tree that can be seen from space, he's starting to want what he lost when he was a kid—a family. Too bad it's with a woman heading back to New York before the ball drops…
Each book in the Credence, Colorado series is STANDALONE:
* Nothing But Trouble
* The Trouble with Christmas