In Skinny Pants (Happy Pants #3) by Mimi Jean Pamfiloff, Nurse Macie Franklin has spent years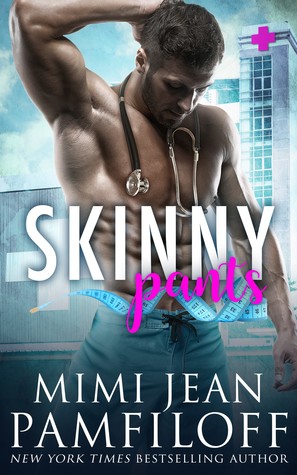 coming to terms with her voluptuous physique. She may not be the perfect, skinny, bubbly woman she assumes most guys chase after, but she rocks as a nurse and has an active life which includes taking care of her health. When she has a moment of weakness after being embarrassed by a chauvinistic doctor at work, Macie creates an online dating profile that stretches the truth a bit. Or a lot, actually. So when she gets tons of responses to her skinny girl pic, she's not surprised. Until she makes a real connection with a gorgeous guy who calls himself Dr. J-Love. And it makes Macie decide to take the steps to turn herself into her online persona, even if it means weight loss surgery.
"You make me so fucking hot, Macie," he groaned under his breath.
He had no idea what his words meant to her. He was the kind of man women dreamed of having. And he wanted her… Not a perfect, airbrushed model, but her. A real woman.
Macie's first appointment with a plastic surgeon turns out to be with none other than Dr. J-Love himself, Dr. Jack Reed. And she is instantly smitten. He's even more handsome than his profile pics made him out to be, he's charismatic, and seems very straight-forward. But Macie chickens out telling him that she's the one he's been chatting with online and assumes she'll have time to tell him later on. Yet with every meeting they have, as they spend more time together, Macie knows the already distrustful doctor is going to flip out when/if she tells him the truth. And as things between them seem to heat up, giving her hope that he wants things to turn romantic, everything implodes. Jack's issues with his ex come back to haunt him, family and friends are getting in the middle of things–including Ms. Luci and her magic cookies–until both Macie and Jack have a lot of soul searching to do before they can even think about being together..
Jack smiled. "Because the answer isn't The Notebook or The Princess Bride."
"Huh?"
"The best romance story ever told is Jack and Macie."
A romantic comedy that will give you ALL the feels, Skinny Pants is the (reportedly) final book in Mimi Jean Pamfiloff's magical & sexy Happy Pants series. And oh what a terrific pair Nurse Franklin and Dr. Reed made once they finally, finally gave in to their attraction.
"People come from all over the world to get their hands on a cookie when she makes them once a year, and they all swear they work. Seven days, and you'll find your true love."
"What? That's ridiculous."
He shrugged. "People have believed in crazier things–Bigfoot, the chupacabra, vampire librarians–you name it."
Vampire librarians?
If you're a fan of Mimi's work and have read–and of course enjoyed–her Fugly series, then I think you'll connect easily with Macie in this story. It touched upon some of the same types of self-doubts and putdowns as what Lily faced. Only with Macie it was about her weight. Now she was no shrinking violet. Nor was she shy or meek. Macie was a kickass heroine who owned her curves and had the kindest, most caring heart you've ever seen. She knew she wasn't exactly what a lot of guys look for in a woman and she was okay with that for the most part. Accidentally catfishing Dr. Jack Reed brought those insecurities out in Macie, though, when it seemed like he took more to her skinnier dating persona than to her curvy real life self. But there was a lot more going on with Jack and the whole online dating thing than it at first appeared, so give it time to let everything play out. (What a twist Mimi gave *that* part of the storyline!)
We didn't get Jack's POV until about roughly halfway through, but when we did, everything clicked for me. I got why he had a cool, almost untrusting, uncaring air about him. And it wasn't just keeping himself emotionally distant from his patients. Nope. Jack had been through the wringer in his personal life over the years, particularly with his ex-wife. I don't want to give too much of his thoughts away on Macie but I will say…it was complicated. And the fact that she catfished him when he already had trust issues, plus with some unwanted involvement from Ms. Luci, and I didn't really blame Jack for *some* of the things he did. But he was an alpha male and like most guys made some boneheaded blunders. Which, thankfully, he more than made up for by the super-happy-sexy-ending.
A totally relatable heroine and a handsome, truly nice hero were put through their paces in this romance that tore at my heart more than once. Skinny Pants was sigh-worthy, swoon-worthy, and simply just *worthy* of any reader's time and full attention. Highly recommended.

Book Info:

Publication: Published April 20th 2018 | Mimi Boutique | Happy Pants #3
From New York Times Bestseller Mimi Jean Pamfiloff Comes a New, Standalone, Romantic Comedy, SKINNY PANTS.
(Book Three, The Happy Pants Café Series)
SHE ACCIDENTALLY CATFISHED THE PERFECT GUY.
BUT WILL HE EVER LOVE THE REAL HER?
DR. JACK REED has been through hell. His wife cheated on him, broke his heart, and lied for years. But moving on isn't easy, and it's impossible to trust women again. Until he meets Macie, a nurse at his new hospital. There's something about her honest heart that makes him want to fight to get his life back.
NURSE MACIE FRANKLIN was always known as "the fat girl." After decades of failed diets, she doesn't dream of ever being anything but invisible to the opposite sex. One moment of weakness and two glasses of bubbly later, she's in a steamy online chat with "Dr. J-Love" as the fake, size 8, bubbly Catrina.
Their passionate conversation convinces her it's time to make big life changes. But when she goes to see Dr. Reed, the new amazing surgeon everyone's talking about, it's Dr. J-Love! And he's way hotter in person.
They hit it off a second time as friends, but now Macie's heart is at risk of falling hopelessly in love. Will he ever love the real her back?