Sleepless in Scotland (The Pennington Family #3) by May McGoldrick: Yes, she should never have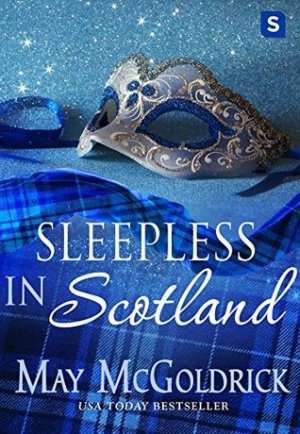 agreed to meet her informant in the Vaults beneath South Bridge, one of the seediest and most dangerous areas in Edinburgh, but she needs the documents the clerk promised her to help her expose corrupt officials. How was she to ever guess she would become separated from her bodyguard and almost get killed as she tried to protect a young boy being threatened. Lady Phoebe Pennington is an ardent reformer who anonymously writes articles for an Edinburgh newspaper in an effort to expose fraud and corruption.
Fortunately for her Captain Ian Bell is in the area and rescues her. Ian Bell is in the Vaults hunting for the murderer of his sister. Her body was found three years ago and sold off for medical cadaver research but Ian's inquiries lead to the information that she was killed in the Vault. Ian will not be able to rest until his sister's murderer is brought to justice. What a coincidence that he happened to be in the right place at the right time to save Phoebe, especially since he knows her, as Phoebe and his sister, Sarah were such close friends. What an exciting beginning to this story!
Author May McGoldrick continues the saga of the Pennington family in Sleepless in Scotland. I've become quite attached to this family from the first meeting of Earl and Countess Aytoun to the stories of their children. Phoebe is the fourth of their five children. She is a very independent, fairly outspoken young lady who, along with the rest of the family is determined to help the poor and unfortunate. I was happy to see Phoebe meet her match in Captain Ian Bell. The Captain is a strong, very protective hero who is just right for our heroine, Lady Phoebe. I found the action, intrigue and plot of this story to be quite entertaining. I look forward to the youngest Pennington, Lady Millie's story.
I highly recommend this book as well as the earlier stories about the Penningtons to all readers who enjoy well-written, well-plotted, entertaining stories!
Book Info:

Published August 7th 2018 by Swerve |  The Pennington Family #3
Captain Ian Bell is a tortured man fighting through grief and guilt over the loss of his sister. When she went missing, he searched for months until he found her remains. Now, three years later as the Deputy Lieutenant of Fife, Ian still hunts for her murderer in the dangerous criminal underworld of Edinburgh. He is the 'Night Watch' bent on revenge even as he saves others from the same violent fate that claimed his sister. Then one night, a young woman narrowly escapes death and lands at his feet…his late sister's best friend, Phoebe Pennington.
Lady Phoebe Pennington—dreamer and storyteller to her family—is a committed reformer writing articles anonymously for an Edinburgh newspaper. One night, in an effort to acquire documents embarrassing to the city's political leaders, Phoebe descends into the corrupt and seething netherworld known as the Vaults. When she tries to save a street urchin from an assailant,she becomes the target of a violent attack, only to be saved by the one man she has desired for years.
Ian's attraction to Phoebe is as undeniable as it is unexpected,and she awakens in him passions he thought long dead. Fearful that she doesn't understand the dangers of this criminal world, he is determined to save her from the risks she takes. Phoebe's blood burns for Ian, but when she learns that he may be implicated in the scandal she is set on exposing, she finds herself torn between love and truth. But even as they strive to find the meaning of trust,fate is taking a hand. For Phoebe is the only one who has seen the face of the killer, and the sinister shadows of evil are closer than they imagine.