In Sleigh Bells in the Snow (O'Neil Brothers #1) by Sarah Morgan, Jackson O'Neil is determined to bring his family's business back from the brink of destruction. Snow Crystal Resort had fallen on hard times under his father's care, but since losing his dad a year and a half ago, he's been butting heads with his family over the best way to build it up again. One would think being a successful CEO of a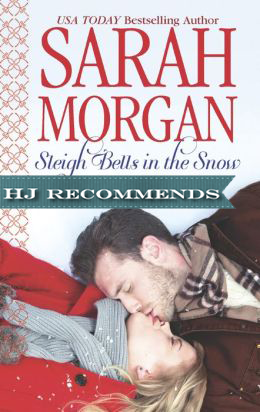 European outdoor leisure company would be enough, but not for the O'Neil's.
'Felled by that smile, Jackson wondered how the hell he was supposed to focus on the words that came out of that mouth when all he wanted to do was kiss it.'
Jackson decides to hire PR firm Innovation to help get the newly renovated Snow Crystal Resort and Spa out in the spotlight. He knows from the first moment he meets Kayla Green, she's the one that will solve his problem. What Jackson didn't realize, is that she could also fill the void he's felt in his life since returning back home. But Kayla avoids emotions and relationships at all cost. Jackson has to pull out all the stops to dazzle Kayla with the wonder that is Snow Crystal, Vermont, and hopefully win her heart in the process.
"I know I'm asking you to walk away from the safe option, but always choosing the safe option stops you reaching for something more. Is that really the way you want to live?"
Kayla Green has been hiding in her work for over a decade. Especially during Christmas. No emotional entanglements means she can focus on her career and forget about past family issues. The opportunity presents itself to spend a week working on the new Snow Crystal account in Vermont.
'She didn't want this to be about anything other than work. As far as she was concerned, the chemistry was as unwelcome as Santa.'
Hoping to seclude herself from the world and forget about Christmas, Kayla jumps at the chance. She didn't expect to be immersed in a winter wonderland filled with family and traditions. And even worse? The very handsome Jackson O'Neil is all she can think of. The chemistry between them is intense and Kayla finds herself relaxing for the first time in…well, forever. Could she actually hope to belong somewhere and not be the outsider looking in for a change?
'It was the most erotic, sexually explicit kiss she'd ever experienced, and she wrapped her arms around his neck, lost in it.'
Sleigh Bells in the Snow is a wonderfully romantic ode to Christmas in New England. Okay…so I'm a little biased about it being set in New but Sarah Morgan managed to capture the incredible magic of small rustic towns during the snowy Holidays, with all the thoughtful ways family and friends help each other.
I found all of the characters charming and extremely well developed. Yes, I even liked grumpy Gramps O'Neil! This is the first book in the O'Neil Brothers series, this one focusing on Jackson. I have to say, if Sean and Tyler's stories are anywhere near as passionate and emotionally charged as this one, count me in!
Seeing Kayla and Jackson try to deny their attraction was certainly entertaining. Jackson is confident in what he wants and he knew right away he wanted Kayla. But he didn't know how to get through the walls she built around herself. Kayla, of course, had a very good reason for her need to avoid forming attachments after being so badly hurt in the past. This story just proves what can happen with some family interference, a fabulous small town setting and the magic of the Holidays.
If you're a fan of Holiday Romance, please take some time to read Sleigh Bells in the Snow. This HEA will have you smiling, crying, but most of all–sighing happily.
Book Info:

 HJ Recommends 
Published October 29th 2013 by Harlequin HQN | Series: O'Neil Brothers #1
USA Today bestselling author Sarah Morgan heats up the season with the O'Neil brothers in a brand-new holiday series!
Once upon a time, Christmas was Kayla Green's favorite time of year. Now all the workaholic wants for Christmas is for it to be over—as fast as possible! So when duty calls her to snowy Vermont to close a deal with a new client, Kayla is grateful for an excuse to avoid the holidays for another year.
Jackson O'Neil left a thriving business behind to return home and salvage his family's resort—it's in his blood, and he can't let it fail. Now that he's got marketing whiz Kayla Green working with him to put Snow Crystal on the map, success is on the horizon. The fact they strike enough sparks off each other to power all the Christmas lights in Vermont is just an added bonus.
Kayla might be an expert at her job, but she's out of her depth with Jackson—he makes her crave the happy-ever-after she once dreamed of, and it's terrifying. As the snowflakes continue to swirl, will the woman who doesn't believe in the magic of Christmas finally fall under its spell?