In Spotlight on Love by L.J. Young, Indy Rowntree dreams of being a big actress, but her agent keeps scraping the bottom of the barrel to find her roles. Sometimes even roles not suited for her at all, like that of a talking vegetable, a tomato to be exact, and that of an old lady. Neither of which she got, since she played the voice of the tomato to be nice and juicy when they wanted it to be firm, and she is definitely not an old lady. The only thing keeping her sane is her job at the coolest bar in Melbourne and her friends.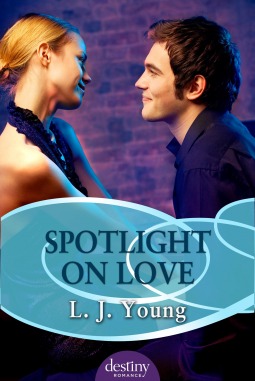 When Bec, Indy's flatmate asks Indy to be set with her brother Daniel now that he is coming home for his birthday, Indy can't seem to be able to refuse. She doesn't want to be set up with anyone, but she owes her Bec for taking her in when she most needed it.
Indy is at the bar serving while she is waiting for Daniel to arrive, just when she is about to clock out a new customer comes to ask for a beer, only he seems a bit shy and doesn't know what he wants or the price exchange from England to Australia, after waiting on him long enough Indy gets annoyed and says the beer is on her and moves to quit and join the table where Bec and her brother are at. Only as she joins them there, the guy from the bar soon approaches and when she is trying to send him away, she is soon told that he is Luke Hunter a friend of Daniel and Troy from England.
Luke knows that not everyone is attracted to the shy type like he is, but he can't help feel attracted to Indy. He has enough on his plate with the decisions he has to make at home and enough problems, which is why he escaped to Australia. Which is why he needs to stay away from vivacious Indy. But for some unknown reason he feels pulled towards her.
Indy knows that nothing permanent can come from being with Luke, but even if he is a little on the shy side he attracts her. The chemistry is obvious and mutual but he won't act on it since he knows that he will leaving soon, and he doesn't want a fling.
What Indy doesn't know is that there is someone else who is trying to get Luke's attentions and won't care about ruining her if necessary to get what she wants. And she will use the people close to her to do it without any of them knowing it.
Indy and Luke are off to a rocky start, but with enough determination and a little communication things can go a long way. They will start on a sweet journey that is followed through can give them the happiness they really want.
If you like a sweet and romantic read with a bit of secrets but lots of laughs, don't miss Spotlight on Love by L.J. Young.
Book Info:

September 16th 2013 by Penguin Books Australia | Destiny Romance
Indy Rowntree's acting career isn't exactly taking off. Her agent is scraping the bottom of the barrel to find her roles – and she's just been knocked back from playing the part of a tomato. Only her friends and job at one of Melbourne's coolest bars are keeping her sane.
Irishman Luke Hunter is in Australia to escape his own problems. He has good reasons for avoiding love but he just can't seem to stay away from vivacious Indy. And then, just when things are looking up for both of them, a mutual friend starts meddling…
A witty, fast-paced love story with a wonderful cast of characters who will have you laughing out loud.