In Slow Ride (Road to Love #2) by Lori Foster, Veronica "Ronnie" Ashford is in the business of obtaining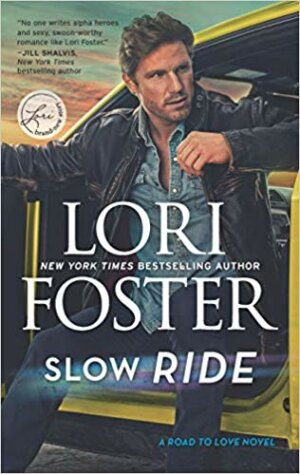 memorabilia for her bosses on her own and doesn't think she needs to have a guy drive her around, acting all big and bad. From what she's heard, though, Jack Crews of Mustang Transport is more straight-laced business guy than badass alpha. After they meet, first at the local bar and then at his business office, Ronnie thinks she might have gotten Jack pegged all wrong. Yes, he's a good guy with a protective streak a mile wide. But he proves to be a solid partner in her increasingly dangerous job. Although the most danger Ronnie faces is to her heart when Jack works his way in under her defenses.
"Stay with me. Give it time. Give us time. If at some point along the way you decide it's not working…" He paused.
Then he'd let her go? She turned her face up to his.
His dark eyes glittered. "Then I'll convince you."
Jack is intrigued right away when he meets Ronnie–even though she does everything in her power to push him away. And it doesn't take long to figure out that the jobs she's being sent on are becoming more and more sketchy, meaning he won't be letting her out of his sight for a while. Easier said than done. Because Ronnie lets Jack know in no uncertain terms that while she doesn't mind some fun between the sheets, she doesn't need his help to do her job. But what Ronnie doesn't realize is that he's more than qualified to be her protector. And that he's also going to be the guy who will win her beautiful heart
"I'm thinking maybe…maybe we could give the whole working together thing a try."
"And the sex?"
"Don't push your luck." After two steps she looked over her shoulder. "But I'll keep my options open."
Jack grinned. Hell, at this point he'd take what he could get.
Danger and crazy hot attraction definitely led the way in Slow Ride. I'm always thoroughly entertained by Lori Foster's stories, but this book was the perfect blend of heat, humor and tons and tons of genuine emotions.
'He thought of himself as a buffer, her own personal bodyguard. She knew he would willingly, gladly, step between her and danger.
And if he got hurt, it'd be her fault.'
I am admittedly a huge fan of Lori Foster's work. She creates some of the most delectable heroes and the most kickass heroines in contemporary romance. The kind of characters you want to know in real life and that leap off the pages they're so realistic. That describes, well, the entire cast in Slow Ride, from our sexy hero Jack to his love interest, sassy and brave Ronnie, to the rest of the family and townsfolk we met. Throw in a touch of exciting suspense and some family drama and this was a page-turner that I couldn't put down.
Jack and Ronnie surprised me a bit with their personalities and how they fit together. He wasn't as buttoned up as he let on and instead had a hidden alpha side to him that was oh-so tempting. Along with being a bit of a white knight who lived to protect others. And Ronnie was, in a word: indomitable. She had such an incredible amount of inner strength after having been through some extremely tough situations. I loved that she stood up for herself and let Jack know (for the most part) exactly where he stood. And it was equally great to see someone–or several someones, in the case of Jack's family–have Ronnie's back and actually show her she was worthy of love and care.
The jobs Ronnie and Jack took were actually pretty interesting, knowing that some of the items they procured came from Lori Foster's real research. And that's where the thrilling action came in. Somehow even the offbeat or outright evil characters were interesting and kept me guessing what was really going on. Jack and Ronnie even picked up a tiny hitchhiker, a little furball to call their own, in their travels who became besties with Brodie's dog Howler (who we met in book one). Seriously, it was so funny and cute it will make you sigh adoringly. *sigh*
A novel to savor and to certainly read more than once, Slow Ride is exactly what I expect out of uber talented Lori Foster. I think romance fans will fall quickly and completely for Jack and Ronnie and will look forward to the next book in this sizzling series.
Book Info:

Publication: March 12th 2019 | HQN Books | Road to Love #2
You can't put the brakes on love…
Ronnie Ashford needs a distraction. In the morning, she has to offer arrogant, conventional Jack Crews a job and convince him not to take it. She doesn't need anyone's help, thank you very much. But tonight is all about the tall, sexy stranger who just walked in the bar—and all the delicious trouble they could get into together. Too bad just as things are heating up between them, he whispers the three little words that destroy everything: "I'm Jack Crews."
Jack is determined to connect with fiery Ronnie—in bed and out of it—but her terms are clear. If he takes the job, helping her acquire prized artifacts for her mysterious bosses, anything between them is strictly off-limits. Somehow he has to convince a woman who's never felt like she belonged that she's found her place—with him. And with the danger sparking hotter than the fire between them, it's going to be one unforgettable trip…