In In The Dog House (Appletree Cove #1) by Traci Hall (February), ten years ago Jackson Hardy and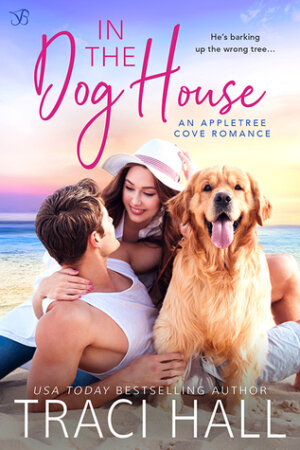 Emma Mercer were very close, but then he decided to join the marines and left Emma with a broken heart. However, now he's back in Appletree Cove to care for his nephew while his sister is in the hospital after a serious car accident and finding it hard to keep his distance from Emma; the woman he's never forgotten. Will Emma be able to forgive Jackson for the past, so they can have a second shot at happy ever after; or will Jackson leave again – this time for good?
"Jackson, I've missed you." There'd never been anyone else she'd connected with like him.
"I'll tell you a secret," he said in her ear. "You are the woman I dream about, when things are quiet and I'm looking up at the stars. It's you, on our place at the beach, snuggled together under a blanket."
Her heart cracked at his admission. "Why?" Why hadn't he told her that before now?
He wouldn't let her turn around to look at him as he finished his confession. "I knew I'd hurt you that day, and I never forgave myself for it. I promised that I would be the best soldier I could be, to make the sacrifice worthwhile."
I've only read some of Ms. Hall YA novels, but she has just as much talent for writing sweet adult novels as she does young adult. The way this story started had me totally hooked because Emma has a great rapport with her dogs and it's understandable why she finds it easier to be around dogs than people most of the time. However, it was from the moment the heroine realized that Jackson was back in Appletree Cove that had me sympathizing with Emma because the hero broke her heart. Will she be able to forgive Jackson for the past?
As for the dialogue, it was entertaining and I really enjoyed the growing relationship between Jackson and Emma, as they find their way back together and the heroine's nephew does everything he can to help his uncle who is struggling with PTSD. Will Emma and Jackson's nephew be able to help him? Will Jackson's sister get better so he can get back to his life? Moreover, I loved Jackson and couldn't help but sympathize with him. Looking after his nephew isn't easy for him, especially because he's struggling with his own demons after everything that has happened during his time in the military. Still, he'd do anything for family because he's loyal, kind and caring. Yet, what I liked most of all about the hero was that he couldn't stay away from the heroine, even though he knows getting close to her wouldn't be good for either of them. He hurt her once and could very easily do it again, especially when he doesn't plan to stay. Will being around Emma make him realize that she's his future?
"You should have come with me," Pepita said. "My treat, for all you do."
"I don't have time for manicures or pedicures," Emma said, her own toenails naked. She sat down, too. "And polish with my job is a waste."
"A woman should take time to feel pretty – not that you need help, with those cheekbones," Pepita declared. "It's nice to be pampered."
While the heroine, she's a bit of an introvert and a very interesting character that I liked from the very beginning. She's smart, kind, caring, hard-working and I liked how determined she is to keep her distance from the hero, even though Jackson isn't easy to ignore because he's the guy she's never gotten over. Despite him breaking her heart and her becoming someone concentrating to make things work with her venture into creating a no-kill shelter and training EST dogs. Yet, in saying that, I liked that Emma was willing to help the hero's nephew who wants to help his uncle, which is proven by all she does to push Jackson to talk and be around Bandit, one of her dogs.
Overall, Ms. Hall has delivered a really good read in this book where the chemistry between this couple was strong and had me enjoying the moments these two spent in each other's company; the romance was on the sweet side; and the ending had me loving how these two realize what they want most and are willing to compromise to be together. I would recommend In the Dog House by Traci Hall, if you enjoy sweet romances, second chance romances or books by authors Jennifer Hoopes, Jennifer Shirk, Traci Douglass and Carrie Nichols.
Book Info:

Publication: February 11th, 2019 | Entangled Bliss | Appletree Cove #1
Ten years ago, Jackson Hardy joined the Marines, leaving behind a woman he still dreams about. When he's called home to care for his ten-year-old nephew, no one is more shocked than he to run into Emma again. Or to still have those same feelings. But Jackson isn't looking for love, and neither is Emma, especially not with him. His precocious nephew, though, and a retriever named Bandit, are about to change that.
So what if Emma Mercer is an overachiever? She has plans to get her doctorate in psychology and create a no-kill shelter for the EST dogs she trains. Which leaves absolutely no time for romance. She's fine with a furry family—dogs don't teach you to love and then rip your heart to shreds. But young Matty's situation tugs at her heartstrings and there's no way she can't help him…and Jackson.
She may have hotter-than-ever chemistry with the soldier, but forgetting the past isn't easy.