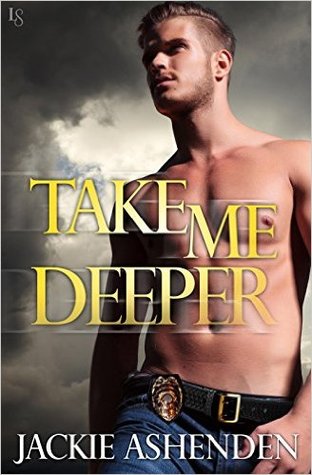 Take Me Deeper by Jackie Ashenden is the first in a new series and revolves around the men of Lone Star Bounty. Three brothers, who are bounty hunters? Sign me right up! Take Me Deeper focus on Zane Redmond and the fugitive he's supposed to bring in, Iris Callahan.
Zane has plans to reenlist in the army but agrees to one last job at Lone Star Bounty for his brothers. Brothers who are practically strangers and an undeniable tension is in the air whenever they are in the same room with each other. His mission, to grab Iris and take her jail. But he didn't count on the Cartel shooting at them or the intense attraction growing between them.
Iris is in a tough situation. If the Cartel grab her, she's dead. If Zane takes her in, it's jail time for her. The only thing Iris cares about is her sister. Her sister's in foster care now because of Iris's poor judgment and now, she's her motivation for getting through this mess…alive.
Zane is possessive, protective, and in control. Whether Iris likes it or not, she needs him. He's the one who is there to protect her and he has no intentions of letting her go. While they are figuring out a plan to keep Iris safe, they give into their attraction to each other.
Zane has some unresolved issues and Iris reminds him of past mistakes. Since Iris trusts him to keep her safe, it's only fair that he trusts her with his past, right?
"Because if you want me, that's the only way you're going to have me. I showed you mine, Zane Redmond, and now it's time for you to show me yours."
Both, Zane and Iris need each other to fill a part of them. Even though their whole relationship is instant, it works for them, but it's only supposed to be temporary. When feelings develop will anyone be the same?
I enjoyed Zane and Iris and the secondary characters involved in the story. For those who love hunky bounty hunters, Take Me Deeper is the perfect read for you!

Book Info:

 October 4th 2016 | Loveswept | Texas Bounty #1
Even as a Green Beret, Zane Redmond hasn't faced a tougher mission than going home again. Loyalty to his brothers is the only reason he's back in Texas, not that he intends to stay for long. Zane sure as hell isn't going into the family business. One last bounty and he's done—or so he thinks. Nobody warned him that his fugitive happens to be a red-hot brunette with a smart mouth, a body made for sin, and a brutal cartel on her trail.
Bad circumstances and worse choices have left Iris Callahan in a desperate situation. After getting arrested for a drug drop gone wrong, she skipped bail and hit the road to avoid testifying. Now the cartel wants Iris silenced forever, and she's just lucky that Zane catches her before they do. Handcuffed to a bed, she surrenders to the cool-as-ice bounty hunter in order to survive. But as the chase heats up, Zane sneaks past her emotional defenses—and Iris is in too deep to let him go.