In Summer at Lake Haven (Haven Point #11) by RaeAnne Thayne, Samantha Fremont is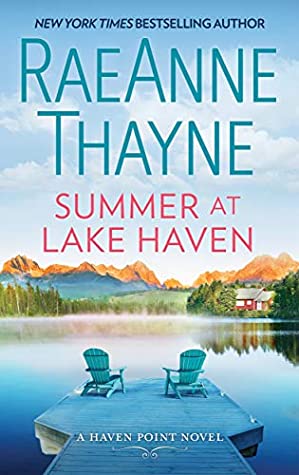 beginning a new chapter in her life, even if she is still somewhat tied to her past–for now. After losing her mother suddenly a few months ago, she's been running their family boutique in town but Sam has also started focusing on her own designs, namely wedding gowns. Thrilled to have the chance to create something fabulous for her friend Gemma, she is in the midst of the process when the bride's brother Ian and his two children rent the house next to Sam. The sexy Brit and his family are all kinds of adorable. And she would love to spend time with Thomas and Amelia as well as to see where her attraction to Ian takes them. But with his time in the States limited, is it really a good idea to get involved?
'Her mother's death had changed her somehow, given her an entirely new perspective on herself and on the life she wanted to create.'
Scholarly Ian Somerhill is pretty sure he's somehow started things off on the wrong foot with his beautiful neighbor Samantha. Thank goodness they begin to relax in each other's company once his beloved children win her heart and even help her around her home while she's finishing Gemma's gown. Ian would like nothing more than to get to know Sam better. His attraction to her is intense and unyielding. But with unavoidable family obligations at home in England which will drastically change his life, Ian has no right to start a relationship. He would never want to hurt Sam. But he's not sure how he's going to leave behind the woman who brings light to the darkness that has been shading his life for so long.
'She had become infinitely precious to him during the short time he had been in Haven Point.'
The perfect beach read with its warmth, depth of emotions, and strong theme of family and friendship, Summer at Lake Haven gives RaeAnne Thayne's Haven Point series the heartfelt send off it deserves.
"You must know I'm becoming quite ridiculously infatuated with you."
She had to catch her breath. In all her life, no man had ever told her such a thing.
As sad as I am to see the Haven Point series coming to an end (for now…as RaeAnne could surprise us in the future!) Samantha Fremont's romance was well worth the wait. We've seen her in other books of course where she's Kat Bailey Callahan's best friend practically since they were born. Sam's world had been quite shaken up recently, though. With her mother passing away, it set her on a path to figure out who she truly was and what she wanted her future to look like. I had to give Sam kudos for admitting her flaws, like how easily she fell for guys. And that she needed to think with her head as well as trust her heart when it came time to try dating again. It felt like by the end she really did have a better grasp on where she was headed, even while fighting against her attraction to Ian the whole time.
What is it about Thayne's heroes that just capture our hearts? Handsome Brit Ian was almost more of a beta hero, being that he was a bit reserved and preferred to spend his time reading or doing marine biology research. I adored his scenes with his children, Thomas and Amelia. Ian was a great dad, helping his kids through their grief after losing their mum. There was a lot more going on in his life than he let on to Sam at first, things that made it infinitely more difficult for a romance to work between them. It was both funny and realistic that Ian and Sam tried desperately to not fall for each other. I think they knew how strong and unique their connection was, so to let it grow would make it that much more difficult to say goodbye after Ian's sister Gemma's wedding. But don't worry…of course they had a stunning HEA!
Speaking of Gemma–who I loved–the ARC I read had a tender bonus story at the end: A Haven Point Beginning, which was a glimpse of her and Joshua Bailey falling in love. It was basically a close proximity story that took place over one day. It even had an interesting twist that made their bond that much more special. Sigh… So look for the bonus story in print editions and I believe it is being sold separately in digital.
Sweet romance, a gorgeous setting, *two* weddings –and adorable kids and puppies!–Summer at Lake Haven was utterly sigh-worthy. I think this will remind fans why they initially fell in love with Haven Point and why it will be so difficult to let these characters go.
Book Info:

Publication: Published June 23rd 2020 | HQN Books | Haven Point #11
They both thought they knew what the future held—until the summer they crossed paths in Haven Point…
Samantha Fremont has been struggling with the weight of her mother's expectations for years. But now that her mother has passed away, it's time for Sam to be bold and finally establish the fashion design business she's always dreamed of. And the perfect opportunity has fallen into her lap. Her friend's getting married and has asked Sam to create her wedding dress. It's an honor—and something that could launch Sam's career…if only she could avoid the bride's infuriating brother, who's temporarily the boy next door.
Ian Somerhill knows a sabbatical in Haven Point is exactly what he and his children need to recover from their mother's death. His romantic relationship with his ex-wife may have ended years ago, but caring for her throughout her illness broke his heart. All he wants is to watch his little sister walk down the aisle and to see his kids smile again. And somehow his lovely new neighbor is instrumental in both. But as their uneasy truce blossoms into a genuine friendship and eventually into something more, Ian has obligations in England he can't ignore—and a secret that threatens the fragile trust he and Sam have built.