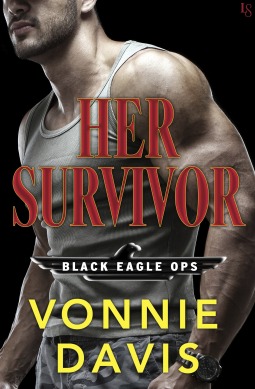 Her Survivor by Vonnie Davis: After losing his leg in the war and continuing to face his PTSD, Dustin joins his captain and a fellow SEAL on Eagle Ridge Ranch to find his peace. The last thing he was expecting, or wanting, was to meet Kelcee, a girl who brings out all his desires and makes him feel like capable man again. But with his PTSD still a problem, he knows he can't stay with Kelcee for her own protection.
Dustin isn't the only one holding back. Kelcee has a hidden past that she'll let know one know about because it can lead to danger for both her and them. But that isn't her only problem. She's willing to spend Dustin's months off before he ends his medical leave, if only Dustin didn't push her away, for her own good apparently.
There was another pause and then laughter, warm and rich, seeped into the fissures of his frozen soul. "I cannot believe you just said that." Her laughter continued and he smiled.
'What, no man's ever complimented you on your curves?"
"Well, no, not over the phone. You are one piece of work, Dustin Franks."
I was kind of annoyed by this story. What I liked is that it had a strong line about PTSD which I feel most romances skip past – although I don't know the accuracy of the author's portrayal, and I do feel she solved it too easily. Plus, I like where I see this series is going with the Black Eagle team
But the characters and conflict just didn't work for me. Dustin truly is the sweetest guy and he and Kelcee do have cute conversations, but how the characters spoke in general was odd. It felt very stiff and highly unrealistic as they gave these long paragraphs of speech expanding on their histories and emotions – even though several of these characters were described as being stoic and not talking or sharing much.
And the conflict was just Kelcee and Dustin trying to protect each other from themselves or being angry at the other for trying to protect each other. I suppose it just came off silly to me, especially because they're wonderful together. When Dustin got upset and left, Kelcee didn't fight for him, she just became mad at him and ignored him.
Overall, I like the camaraderie of the characters, but this story just didn't work for me. However, if you enjoy military reads I recommend Her Survivor. There's a lot of focus on the military aspect.
Book Info:

 July 19, 2016 | Loveswept | A Black Eagle Ops Novel #1
Vonnie Davis welcomes readers to Wounded Warrior Falls! In this sizzling contemporary series, broken heroes meet women worth fighting for—and discover the healing power of love.
Navy SEAL Dustin Frank can handle physical pain; it's his soul that needs mending.
After losing part of his leg in an explosion, the panic triggered by his PTSD nearly drives him over the edge. So Dustin retreats to the Eagle Ridge Ranch, a charming hideaway tucked into the Hill Country of Texas. There he finds solace in the arms of a shy beauty who reawakens desires he thought he'd lost forever—and who makes him want to lose control, just when he needs it most.
Kelcee Todd sees beyond Dustin's scars to the real man beneath: fiercely protective, strong yet tender. She wants nothing more than to feel his battle-hardened hands on her body. However, Kelcee is not the ordinary small-town girl she appears to be. Her brother is a killer with ties to the Russian mob, and after her testimony put him in prison, he's out and eager for revenge. Now Dustin is her best defense, even if it could cost him everything. Kelcee could never ask him to make that sacrifice . . . but she can't stop him, either.