So Not Meant To Be by Meghan Quinn: JP Cane has had a crush on Kelsey from the moment that she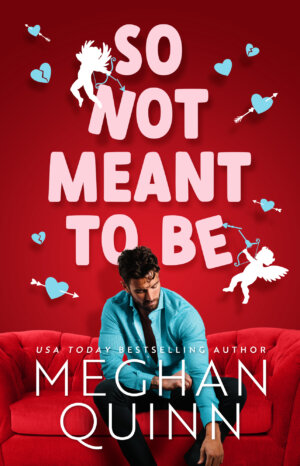 walked into his companies boardroom to pitch her sustainability organisation business, the only problem being nothing can possibly come off this insanely magnetic attraction. Not that this even really matters when for some reason Kelsey seems to think that JP is some no good playboy that doesn't want to settle down…so what better way to prove to a girl that he likes her than to act like a total jerk every time they are together? If having to deal with these feelings were not hectic enough now Huxley has decided to send JP and Kelsey to San Fransisco to scope out a historic building that they have just acquired… spending two weeks alone together in a penthouse is bond to send temperatures and emotions skyrocketing… the question is can these two weeks be just the thing that JP needs to prove to Kelsey that he is the man of her dreams?
"His kiss claims me, showing me that no matter what happens, no matter what journey we take, I'm his. He's mine. And together, we're so meant to be."
I think that it is safe to say that So Not Meant To Be is easily my favourite book by Meghan Quinn, I would go as far as to say that this has been my favourite book of the year! There was just something so completely consumingly addictive about reading JP and Kelsey's story. There were notes of the silly light humour that we have come to know in Quinn's book but there was an extra layer of deep emotion in this book that just made it such a hit for me. After reading Huxley and Lottie's book I was super eager to get my hands on the next Cane brothers story and let me just tell you that JP has well and truly melted my heart!
Kelsey was just a sweet heart, I loved her love for love and romance. She was a true romantic and she was not afraid to embrace this. I just adored her podcast and that it gave us a chance to see some of our old favourites and relive their happily ever afters, this was such a brilliant addition to the book and really helped make the epilogue all the more sweet and heart melty. If ever there was a relatable leading female character it was Kelsey, girl I feel you and that road to finding your perfect match, it sure isn't as easy as we all hoped it to be. Getting to see her face all of these dating struggles and insecurities were very realistic and something I think most ladies can relate to. There were a few moments that I did want to give her a good shake and be like girl wake up JP is practically begging for you to notice him but this only built up the anticipation in their will they or won't they finally figure it out!
"I soaked you up from a distance and waited until you could see me as the man I really am."
Oh good gosh JP Cane! This man just stole my heart and I don't even want it back! He was pure heart melting hero perfection, I loved that he was so much more than this rich playboy billionaire. I really enjoyed getting to see him open up and struggle to find what truly makes him happy. His entire journey was one emotional, heart breakingly beautiful story and I ate it up! I just loved that he was this grump on the outside but such a soft hearted romantic in private, getting to see him silently pin for Kelsey was equal parts beautiful and heart breaking. I will say that I really liked that Quinn gave us a different look on how the hero feels in this type of romance instead of just having an emotional female character and this cool and calm male lead. Also how can you not just love a guy that wants to save the polar bears and the pigeons!! The pigeons, gosh this was just the cutest part of the book for me hands down!
"But his bulgy eyes and his bow tie, they just about break me. "Hi, Kazoo." He looks to the right, he looks to the left, and then he lifts one foot. I grip my chest and say, "Oh hell, I think I just met the second love of my life."
I absolutely ate up the build up of JP and Kelsey's romance, their banter, covert glances and silent longing for each other just made their ultimate coming together super sweet and for filling. I just loved that for JP Kelsey was the ultimate goal, winning her over was all that his heart wanted and gosh once he did, our boy did not take her for granted! I really liked getting to see them exploring San Fransisco together and their love for that honey cake. I also have to mention that I just loved that Hux and Lottie were so involved in JP and Kelsey's story, but most of all I loved that we got to see more of Breaker. I can't not say this enough but we need to get his book pronto!! I have a strong feeling that he is just going to be a total closeted romantic with one heck of a swoony story!
So Not Meant To Be is Quinn at her very best! This book is NOT TO BE MISSED with the perfect combination of enemies to lovers, forced proximity, reformed playboy and one super heart melty hero falls first medley of tropes you will be spoiled for choice as to what makes you love this book most!
Book Info:

Publication: June 7, 2022 | Pub: Meghan Quinn |
Am I friends with JP Cane?
Ha! That's laughable.
Besides the fact that he's adopted some far-fetched notion from the movie When Harry Met Sally that says men and women can't be friends and work together, it's safe to say we're not friends. He's annoyingly loud, obnoxiously handsome, and has made an art out of poking all my hot buttons . . . multiple times a day.
So you can imagine how disgruntled I am when I not only have to fly to San Francisco with him for work, but stay in the same penthouse. Yup, we're sharing the same air, twenty-four-seven. We're talking full-fledged working roommates.
The man doesn't know what it means to wear a shirt, thrives off protein bars, and you guessed it, moans loud enough for people to believe he's Meg Ryan in a restaurant.
Spoiler Alert: I WON'T be having what he's having.
Tack on his continuous flirting and his polished good looks, and I'm caught staring down the barrel of a seductive temptation that makes it hard for me to sleep at night.
But guess who can control herself? This girl.
Because if there is one thing I know for certain, it's that JP Cane and I are so not meant to be.