Rocky Mountain Rivals by Joanne Rock: Fleur has come back to the family ranch after her grandmother's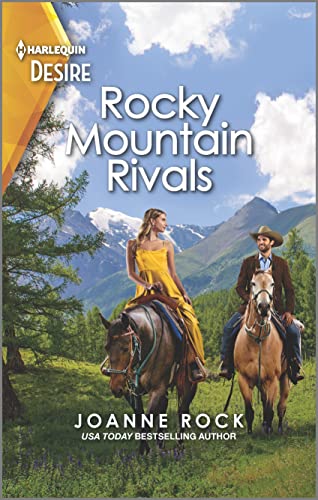 death to decide about how to best settle the estate that will include her two sisters. Those two are tied up with their lives and work so have appointed her to be in charge. Fleur feels guilty that she hasn't made more time for visits to her beloved grandmother. One of the primary reasons was a broken engagement from Colin Alexander that was precipitated by his brother Drake.
Fleur is thrown back together with Drake and learns quickly that he wants to buy the family ranch. She doesn't trust him and wants time to consider all her options. Even though he is her sworn enemy, there is a definite undercurrent of attraction between the two.
Emma has trained as a chef and hopes to open her own restaurant someday. While she is in Catamount she tries making various goodies for the local coffee shop as a trial. This leads her to be further entwined in the community by catering a wedding. Will Emma be able to go on with her plans and avoid any attachment to Drake?
Emma is a very likable character and has admirable goals. She has every reason to dislike and distrust Drake. Drake is very ambitious and seems to have more reasons than his brother's finances for breaking up Colin's and Emma's engagement. Five years have passed since that time, but he has to realize he can't push Emma too far concerning her family's legacy.
Joanne Rock has used her superb storytelling skills to craft the perfect enemies to lovers tale. Since Rocky Mountain Rivals is part of Harlequin Desire line the reader knows there will be a sizzling storyline and Ms. Rock truly delivers.
This novel is the first in the Return Catamount series. I am eagerly looking forward to the next two in the series and any future books by this awesome author. You will want to grab them all ASAP.
Book Info:

Publication: May 24, 2022 | Harlequin Desire | Return to Catamount #1
An off-limits kiss on the ranch turns enemies to lovers in the launch of this new Western series, Return to Catamount, from USA TODAY bestselling author Joanne Rock!
The man responsible for ruining her life…
just made her an offer she can't refuse.
As heartless and irresistibly attractive as ever, bull-riding champion Drake Alexander says he has his reasons for wanting control of Fleur Barclay's family ranch. And Fleur is torn by her warring feelings for him—Drake is her ex's brother and totally off-limits. Yet she gives in to his powers of persuasion…and their sizzling chemistry. But secrets and a devastating betrayal could turn these lovers back into bitter enemies in a heartbeat…