Romeantically Challenged by Marina Adair: Physicians assistant Annie really has had a bad stream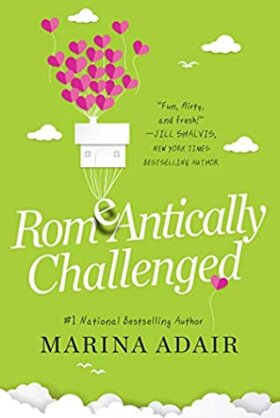 of luck, not only does her no good ex fiancée break up with her via text but in a matter of weeks he gets engaged again! Needing to get away from having everyone constantly asking what happened, Annie packs up her life and goes on her mission to explore the world all while being man free. Her first stop, Rome, not Rome, Italy, but Rome, Rhode Island.
Everything was going well that is until the custom boutique that was restoring her grandmother's wedding dress for her sends her the dress except it was altered to fit the wrong bride. Yes, they did it, they altered the dress to fit her ex's new bride to be. With this adding to the fact that said ex had yet to pay her back the deposit in the venue or the deposit she made on any of the other arrangements, a call was in order. However Annie had no idea while she was politely ripping into her ex she had an audience. You see the owner of the cabin she was renting had come back early and he had no idea that it had even been rented out, hence his snooze in her bed, well really his bed.
"Either the bed or the porridge, Goldilocks. Not both. – one big bad bear's opinion."
The last thing Emmitt expected was to come home to find a cute stranger fighting a wedding dress in her lacy underwear at his cabin. His plan was to come home get a clean bill of health, spend time with his daughter and be back on the road uncovering the next big story. But even with the cutie throwing her heels at him and his busting headache Emmitt is definitely interested by this new comer. However with his concussion still bothering him Emmitt has another problem to worry about his little girl is not so little anymore. With her now hitting her teen years Emmitt has to face an all new challenge, not only does he have to try and navigate his sweet P's new moods but he also needs to try and find his place amongst his co-dads.
As Annie and Emmitt continue to cohabit so begins their cute flirty texting. Having a front line seat to seeing Emmitt with his daughter and hi. Asking for help in how to connect with her, Annie begins to see that maybe he is not what all the rumours say that he is like.
"Emmitt had been kissed and he'd been kissed, but he'd never come close to being kissed like this. On a scale of scorching to molten lava, Annie was nearing surface-of-the-sun levels. Not too hot that he'd be afraid of getting burned. Not too cold that he'd have to wonder if she was going to ditch the shirt and teal lace. Oh no, his Goldilocks' kiss was just right."
I absolutely loved this novel! It was such a cute read that really checked all the boxes any romance reader could ask for. Annie was such a relatable and enduring character, I have to say that my heart just broke for her with what she had to go through with her ex. My word did I want to just scream and slap her ex. What a jerk to use her wedding venue and all her planning for his new wedding, gosh and Annie's parents wanting to go for the wedding was no better if you ask me.
"Annie had it all wrong. Emmitt wasn't romantically challenged. He was romantically choosy. And he'd chosen her."
As for Emmitt, the poor guy really had a lot going on as well. It was so sad to watch him struggle to find his place in his own daughter's life. But like he helped Annie it was nice to see Annie being there to lend him the support that he needed to navigate his role as a hands on dad. The only thing that I wanted for was a better rounded epilogue. Other than that there was really nothing that I can say went wrong with this novel. Adair has done a phenomenal job with Romeantically Challenged, I highly recommend picking up a copy if this novel, it will have you crying, laughing and yelling but most of all you will end with a warm happy feeling that comes from reading a first class novel.
Book Info:

Publication: July 28th 2020 | Kensington Publishing Corp. | When in Rome #1
Marina Adair's Romeantically Challenged is a humorous and heartening take on Three Men and a Baby meets 27 Dresses, in which a newly single physician's assistant who sets out on an exotic—and man-free—adventure gets stranded in a coastal Rhode Island town full of eccentric residents, nosy neighbors, and an infuriatingly sexy roommate who makes her question her man-free die