In Romancing his Rival by Jennifer Shirk, Elena Mason can't believe Lucas Albright wants her to work with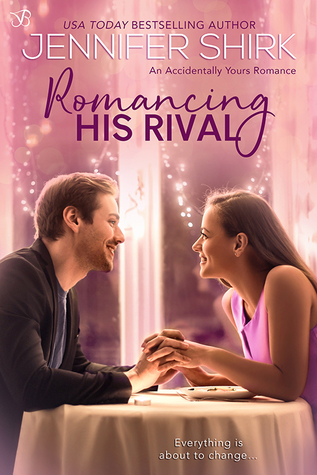 him, especially after how he convinced her ex-fiance out of getting married. However, the offer he's making for her work is an offer she can't possibly refuse. Not when it could help her win her ex back. Yet, the more time she and Lucas spend together, the more Elena finds her falling for a guy that wants nothing to do with love and happy ever after. Will Elena give Lucas a chance or will she walk away from her chance at forever love?
"I need to work on my Christmas spirit." Christmas spirit? Ugh. That was the best he could do?
She folded her arms. "Oh? Been haunted by the Ghost of Christmas Past recently? I'm not surprised."
"Cute, but no. It's for work. Work that you…might be interested in," he hedged.
She smiled tightly. "If you're involved, then no, I won't be interested. Thanks anyway."
Riiiight. Well, whatever minor breakthrough they had in the mountains was obviously defunct. It was going to be tougher to get that back so she'd be willing to work with him, but he had a little time.
Having really enjoyed the first two books of this series, I couldn't wait to read this story and I've got to say that it is the best of the series yet. The way this story started had me sympathizing with the heroine, as she really needs a vacation. Yet, unfortunately, it looks like that's going to be impossible, considering the situation she finds herself in not long after she arrives at her destination. However, it was from the moment the hero and heroine come face-to-face for the first time where this story really gets interesting, as the heroine absolutely loathes the hero and isn't afraid to tell him. Really, she's quite feisty and vocal and had me liking how much of a challenge she provides the hero, as he tries to win her over because he needs her.
As for the dialogue, it was compelling and intense due to the main characters back stories and the history between this couple because of what the hero did to the heroine. Will Elena be able to accept Lucas's reasons for what he did? Was he really trying to protect her from future hurt, especially considering everything Lucas knows about her ex-fiance? Moreover, the main characters are fantastic and I really enjoyed their growing relationship, as they go from enemies to lovers and Elena begins to realize Lucas isn't the bad guy she thought he was.
"You have high expectations in relationships."
"I don't think so. Not if you're of one mind with that person and are truly partners in life."
"Well, I can honestly say, my ex-wife and I are better friends now than when we were together. Face it. Some people just work better as a one than as a two."
"You think you're better off as a one?"
"I do."
Elena's eyes flickered with mild surprise. "But don't you ever get lonely?"
With the main characters, the heroine is feisty, creative, resilient, courageous and I liked that she gave Lucas a chance because she was determined to get her ex-fiance back; an ex-fiance that didn't deserve Elena. I also liked the close friendships the heroine shares with her two best friends. She needs the advice they give her when it comes to Lucas because her ex-fiance isn't the right man for her. While the hero, I absolutely loved him. He's smart, driven and I liked how determined he was to win the heroine over, even though he doesn't think all that highly of relationships. I also liked how determined the hero was to protect the heroine from having her heart broken, especially since her ex is such a jerk that wants to change the heroine.
Overall, Ms. Shirk has delivered a fun, delightful and charming enemy to lovers trope encompassing story in this book where the chemistry between this couple was intense; the romance was on the sweet side; and the ending had me loving the hero's determination to fight for his relationship with the heroine because she's the right woman for him always. However, it was the epilogue that wrapped this story up nicely because Lucas knows how to make Elena's night a good one. I would recommend Romancing the Rival by Jennifer Shirk, if you enjoy the enemy to lovers trope or books by authors Traci Hall, Robert Tate Miller, Carrie Nichols and Victoria James.
Book Info:

Publication: February 11th, 2019 | Entangled Bliss | Accidentally Yours #3
Hopeless romantic Elena Mason doesn't often hate people, but she hates her ex-fiancé's insufferable best man, Lucas Albright III. She just knows Lucas is the one who talked her ex out of getting married—so Lucas is clearly the cause of all her problems.
And now she's expected to work with him? Oh, heck no.
Lucas Albright wants nothing more than to make partner at his advertising firm, and he knows he works best alone. But then Elena ends up as his partner on an account that could win him a promotion. He had a great reason to end her engagement, not that she'd ever believe him. Still, he's willing to try working as a team.
Unfortunately, his new "partner" wants him dead.
Elena knows she's going to have to give in and work with her nemesis, though nobody said it had to be easy for him. But what happens when fighting starts feeling a whole lot like falling in love?