Stay Hidden by Julie Anne Lindsey is the fourth book in her Heartland Heroes series. This is a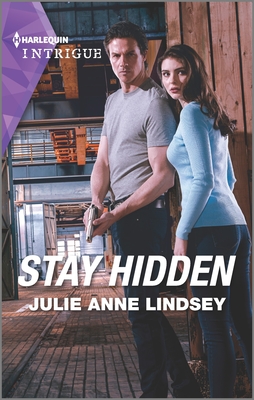 fast-paces, action-packed suspense story.
Gina Ricci is on the run. She has finally escaped her abusive ex-boyfriend Tony Marino. Gina has great incentive to get away from Tony. She is pregnant and there is no way she is letting Tony abuse the baby. Gina thought she was finally safe in Great Falls, Kentucky, but it looks like Tony has found her again. In desperation she steps into the office of Private Investigators Cruz and Derek Winchester. Cruz listens to Gina's story and vows to keep her safe. It's not going to be easy. Tony has plenty of money to bribe informants and he is intimidating her friends and family. He seems to have become unhinged as he commits crime after crime in his pursuit of Gina. Gina hopes the police will have enough evidence to make charges stick so she can feel safe again.
Cruz Winchester loves his job as a private investigator. He likes that he doesn't have to abide by the very rigid rules his brother and cousins must as officers of the law. When Cruz sees Gina outside of his office he is struck by her beauty. He is glad when she opens the door to the office and steps in. When Gina tells her story and asks for help Cruz's protective instincts go into overdrive. Cruz resolves that Tony will never hurt Gina again. He can do this. He has his family behind him. His brother and cousins won't let him down.
I enjoyed reading along as the relationship between Gina and Cruz develops. The evil of the villain is mesmerizing. It's mind-boggling to think anyone could be so evil. I liked getting to see characters from the previous books in the series. The Winchesters are a fascinating family and this is an excellent suspense series.
Book Info:

Publication: October 26th 2021 | Harlequin Intrigue | Heartland Heroes Book 4
She wants to disappear
He's determined not to let her Expectant mother Gina Ricci needs an exit plan—pronto! Her ex is out of control, and private investigator Cruz Winchester insists justice—not hiding—is the only way to keep her baby safe. But even as Cruz and his law enforcement family unite in her defense, Gina's attraction to her handsome protector grows undeniable. Unstoppable. Then her family is targeted and the stakes couldn't be higher…
From Harlequin Intrigue: Seek thrills. Solve crimes. Justice served.
Discover more action-packed stories in the Heartland Heroes series. All books are stand-alone with uplifting endings but were published in the following order:
Book 1: SVU Surveillance
Book 2: Protecting His Witness
Book 3: Kentucky Crime Ring
Book 4: Stay Hidden