Steele by Sawyer Bennett might be one of the older guys on the team but his game is still as hot as it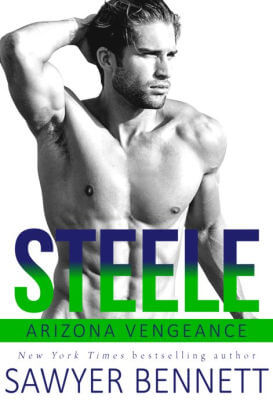 was when he started, and to reach these heights in his career as a pro hockey player Steele has made some huge sacrifices, neglecting his family and now it has come to bite him in the backside. With his wife filling for divorce and his teenage daughter less than thrilled with him, Steele begins to come to terms with the idea that he is going to have to navigate the murky waters of being a single dad to a teenage daughter!
But when Steele sees his wife on a date with another man he gets the much needed kick up his butt and realizes that he doesn't want to give up his family or the woman that he loves. Steele has to regroup and find a way to win back the hearts of both his leading ladies.
I am a huge fan of Sawyer Bennett, her books have always been a go to of mine and the Arizona Vengeance series has definitely been a standout. I am a huge fan of second chance romance already but add to that it being a save a crumbling marriage second chance romance and I am so in! This was a cute yet sassy and sexy story that was super easy to devour.
I really liked that we got snapshots of their past and that helped in aid their journey to reconnecting. Both Steele and Ella were cute characters that were easy to love and root for. My heart did break for Ella and all that she had to go through but I did like the way Steele won her trust and heart back. Though I have to say Lucy and Brody the pup truly stole my heart, these two added so much to this story.
Steele is a must read for me, this second chance sports romance will have your heart melting right alongside the heroine. You can not go wrong with a Sawyer Bennett book and this one just proves it.

Book Info:

Publication: December 8th 2020 |  Big Dog Books, LLC | Arizona Vengeance #9
A second chance may be just what James Steele needs…
I might be one of the older players on the Arizona Vengeance, but I like to think that also makes me one of the wisest. Or at least I used to.
Turns out, I've been a bit selfish. I've been married to hockey and my team for years, which hasn't left much time for my actual wife, Ella. Now I'm juggling a separation I never wanted, the pressure of being a single dad to our teenage daughter, and the career I sacrificed it all for.
While my game on the ice might be on fire, the game in my personal life is clearly lacking, as evidenced by the fact I just saw my wife on a date with another man. If I have any hope of saving the family I love, I need to re-prioritize, and fast. So it's time for me to get back to fundamentals, just like I did when I learned how to play hockey. I've never backed down from a challenge, and romancing my wife is a challenge I am very much looking forward to.
Time to put on my game face, because I'm in it to win it.